July 12, 2011 (Belgium) – Earlier this month (July 3), I won the fourth and final stage of the Arden Challenge (June 30-July3), a four-day stage race in the Wallone region of Belgium. The parcours for each of the circuits featured the hilly, forested roads that are typical of the region and make for some demanding racing.
I rode well from the start, finishing tenth on the first stage by way of a long breakaway and eleventh on the second day in much the same fashion. The third stage I ended in the middle of the bunch sprint a couple of minutes down on the winning breakaway. Going into this last day of the race I sat fifth in the general classification.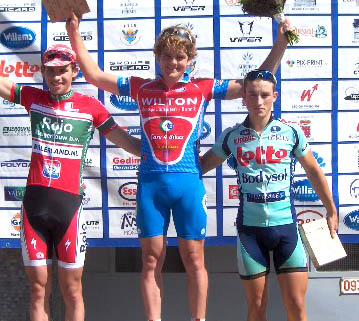 Early on during the final stage four I split away with a group of eighteen riders on a long uphill drag and was away for the day. I stayed relaxed and rode pretty defensively for most of the stage, keeping aware of a couple riders close to me in the classification that were with me in the lead group.
With fifteen kilometres to go while cresting the top of the climb on the finishing circuits, I attacked. The organization in the break was beginning to fall apart and I wanted to take a chance and get away from the large group.
I was by myself in the solo effort for about eight kilometres – then looked back and saw two others coming up to me, well clear of the rest of the breakaway. I decided to wait and take a couple of moments to recover instead of blowing everything trying to hold off the two chasers.
On their wheels I refused to pull through and then three quarters of the way up the climb I hit them with an attack. I knew that if I could get clear over the top we would all be limited as to how fast we could go on the downhill and they would have a hard time closing the gap.
From there it was all in. My gap got bigger and I crested the final rise alone and was able to coast down to the finish line and take it all in. I was really happy to win with this being the best race result of my life. By way of that stage I also finished second on GC.
Results
Stage 1 Hotton – Hotton 140km
1. Niels Vandyck (Bel) 03:24:00
2. Hophra Gerard (Bel) 0:05
3. Jérôme Giaux (Bel)
10. Keir Plaice (Can) 1:14
Stage 2 Bertogne – Bertogne 132.8km
1. Michaël Savo (Bel) 03:16:51
2. David Desmecht (Bel) 0:16
3. Jérôme Giaux (Bel) 0:22
11. Keir Plaice (Can) 0:34
Stage 3 – Vaux Sur Sure – Vaux Sur Sure 127.5km
1. Sjors Roosen (Ned) 03:06:42
2. Wouter Dewilde (Bel) 0:07
3. Bart Verschueren    (Bel)
27. Keir Plaice (Can) 2:17
Stage 4 – Aubange – Aubange 124.6km
1. Keir Plaice (Can) 02:46:48
2. Rutger Schellevis (Ned) 0:04
3. Nazario Nanni (Bel)
Final GC
1. Wouter Dewilde (Bel) 769 pts
2. Keir Plaice (Can) 755
3. Michaël Savo (Bel) 755
4. Raf Vanlommel (Bel) 753
5. Nazario Nanni (Bel) 748