June 07, 2015 (Philadelphia, Pennsylvania) – Canada's Jasmin Glaesser (Optum p/b Kelly Benefit Strategies) captured the QOM crown and a $5,000 cheque at today's 115km Philadelphia International Cycling Classic, round #6 of the UCI Women's Road World Cup.
Elizabeth Armitstead (Gbr) Boels Dolmans Cycling Team took the win on the final climb up the grueling Manayunk Wall. Elisa Longo Borghini (Ita) Wiggle Honda was second and Alena Amialiusik (Blr) Velocio – SRAM claimed 3rd as Armitstead takes over the series lead.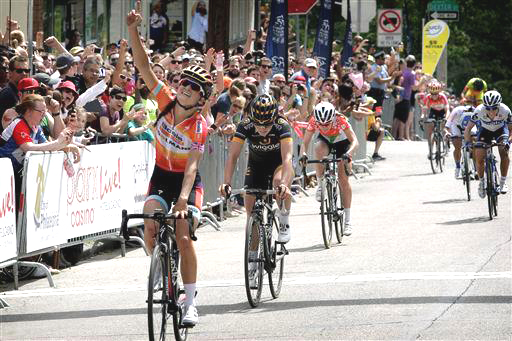 Glaessers' teammates and fellow Canucks, Leah Kirchmann and Lex Albrecht finished 7th and 8th respectively with Joelle Numainville (Can) Bigla Pro Cycling Team was 11th and Karol-Ann Canuel (Can) Velocio – SRAM finished 16th putting four Canadians in the top 20.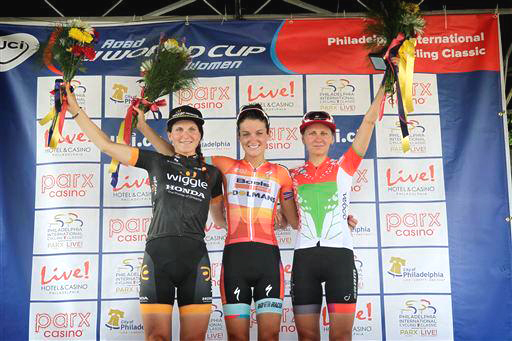 Glaesser escaped mid-race for a solo effort where she claimed most of her QOM points before being reeled in as more attacks were unleashed. None would stick as the pack hit the final climb with Albrecht leading the charge but Borghini took over and then Armitstead overtook her near the top to claim the win and the leader's jersey.
Results
1. Elizabeth Armitstead (Gbr) Boels Dolmans Cycling Team 2:58:01
2. Elisa Longo Borghini (Ita) Wiggle Honda
3. Alena Amialiusik (Blr) Velocio – SRAM 0:01
4. Shelley Olds (USA) Bigla Pro Cycling Team 0:02
5. Coryn Rivera (USA) UnitedHealthcare Cycling Team 0:03
6. Evelyn Stevens (USA) Boels Dolmans Cycling Team 0:05
7. Leah Kirchmann (Can) Optum p/b Kelly Benefit Strategies  0:06
8. Lex Albrecht (Can) Optum p/b Kelly Benefit Strategies
9. Maria Giulia Confalonieri (Ita) Ale Cipollini 0:07
10. Ariane Horbach (Ger) Optum p/b Kelly Benefit Strategies 0:12
11. Joelle Numainville (Can) Bigla Pro Cycling Team 0:13
12. Eugenia Bujak (Pol) BTC City Ljubljana
13. Lauren Stephens (USA) Team Tibco-SVB 0:14
14. Megan Guarnier (USA) Boels Dolmans Cycling Team 0:15
15. Lauren Komanski (USA) Twenty 16 p/b Sho-Air 0:16
16. Karol-Ann Canuel (Can) Velocio – SRAM 0:18
17. Lotta Lepist_ (Fin) Bigla Pro Cycling Team 0:22
18. Beatrice Rossato (Ita) Ale Cipollini 0:27
19. Giorgia Bronzini (Ita) Wiggle Honda 0:28
20. Mary Zider (USA) Colavita-Bianchi 0:34
21. Miriam Bj¿rnsrud (Nor) Hitec Products 0:35
22. Hannah Barnes (Gbr) UnitedHealthcare Cycling Team
23. Jessenia Meneses (Col) Itau Shimano Ladies Power Team 0:37
24. Katie Hall (USA) UnitedHealthcare Cycling Team 0:40
25. Christine Majerus (Lux) Boels Dolmans Cycling Team
26. Rhae-Christie Shaw (Can) BMW p/b Happy Tooth Dental 0:42
27. Joanne Kiesanowski (Nzl) Team Tibco-SVB 0:43
28. Kathrin Hammes (USA) Team Tibco-SVB 0:45
29. Mayuko Hagiwara (Jpn) Wiggle Honda 0:47
30. Aranza Valentina Villalon Sanchez (Chi) Itau Shimano Ladies Power Team 0:48
31. Rocio Parrado Guarnizo (Col) Itau Shimano Ladies Power Team 0:49
32. Alexis Ryan (USA) UnitedHealthcare Cycling Team 0:51
33. Emilie Moberg (Nor) Hitec Products 0:52
34. Tiffany Cromwell (Aus) Velocio – SRAM 0:53
35. Megan Rathwell (Can) BMW p/b Happy Tooth Dental 0:55
36. Diana Pe-uela (Col) Colombia National Team 0:58
37. Elena Berlato (Ita) Ale Cipollini 1:00
38. Erica Zaveta (USA) BMW p/b Happy Tooth Dental 1:02
39. Emily Collins (USA) Team Tibco-SVB 1:03
40. Vita Heine (Nor) Hitec Products
41. Laura Jorgenson (USA) Pepper Palace p/b Happy Tooth Dental 1:04
42. Amy Charity (USA) Optum p/b Kelly Benefit Strategies 1:05
43. Dulce Pliego (Mex) Mexican National Team 1:06
44. Sharon Laws (Gbr) Bigla Pro Cycling Team 1:07
45. Mara Abbott (USA) Wiggle Honda 1:09
46. Lisa Klein (Ger) Bigla Pro Cycling Team 1:11
47. Charlotte Becker (Ger) Hitec Products 1:17
48. Alison Jackson (Can) Twenty 16 p/b Sho-Air 1:19
49. Lorena Vargas (Col) Colombia National Team 1:20
50. Katie Dovovan (USA) Colavita-Bianchi 1:21
51. Kirsten Wild (Ned) Hitec Products 1:29
52. Joanne Hogan (USA) Team Tibco-SVB 1:30
53. Linda Melanie Villumsen (Nzl) UnitedHealthcare Cycling Team 1:37
54. Lauren Stephens (USA) Team Tibco – SVB 1:38
55. Carmen Small (USA) Twenty 16 p/b Sho-Air 1:40
56. Andrea Dvorak (USA) Twenty 16 p/b Sho-Air
57. Lauren Tamayo (USA) UnitedHealthcare Cycling Team 1:49
58. Lisa Brennauer (Ger) Velocio – SRAM 2:01
59. Lauren Hall (USA) Twenty 16 p/b Sho-Air 2:14
60. Jasmin Glaesser (Can) Optum p/b Kelly Benefit Strategies
61. Trixi Worrack (Ger) Velocio – SRAM 2:20
62. Tayler Wiles (USA) Velocio – SRAM
63. Dalia Muccioli (Ita) Ale Cipollini 2:24
64. Ana Hernandez (Mex) Mexican National Team 2:26
65. Lindsay Bayer (USA) Pepper Palace p/b Happy Tooth Dental 4:15
66. Andreina Rivera (Col) Itau Shimano Ladies Power Team 5:02
67. Elena Valentini (Ita) BTC City Ljubljana 9:03
Sprint Classification
1. Emilie Moberg (Nor) Hitec Products 23  pts
2. Kirsten Wild (Ned) Hitec Products 10
3. Lotta Lepist (Fin) Bigla Pro Cycling Team 6
QOM Classification
1. Jasmin Glaesser (Can) Optum p/b Kelly Benefit Strategies 34  pts
2. Elizabeth Armitstead (Gbr) Boels Dolmans Cycling Team 17
3. Hannah Barnes (Gbr) UnitedHealthcare Cycling Team 13
4. Katie Hall (USA) UnitedHealthcare Cycling Team 13
5. Lauren Stephens (USA) Team Tibco – SVB 13
6. Elisa Longo Borghini (Ita) Wiggle Honda 10
7. Ariane Horbach (Ger) Optum p/b Kelly Benefit Strategies 8
8. Charlotte Becker (Ger) Hitec Products 7
9. Alena Amialiusik (Blr) Velocio – SRAM 6
10. Beatrice Rossato (Ita) Ale Cipollini