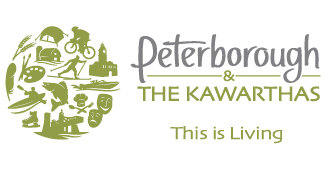 May 14, 2015 (Douro-Dummer, ON) – Peterborough & the Kawarthas Tourism, Shimano Canada, the County of Peterborough and the City of Peterborough have partnered to create the area's first official road cycling routes. The Peterborough & the Kawarthas Classics are a series of three double-loop road cycling routes which were officially launched yesterday at McCracken's Landing, just outside of Peterborough, Ontario.
Through extensive collaboration with avid local road cyclists, nearly 300 kms of scenic rural roads encompassing the three most dynamic and popular routes throughout Peterborough County now include approximately 160 way-finding signs which take riders off of the beaten path, encouraging visitation to businesses throughout the region. All routes start and end in downtown Peterborough at Millennium Park tying into a number of trail systems in the City of Peterborough.
These three routes are often enjoyed by many of the area's local cyclists, but are yet to be discovered by visitors to the area. They have been divided into long and short loops and were named by their distinct characteristics and the length:
·         Route 1 – Lakes, Rivers & Cafes 60 & Route 1A – Lakes, Rivers & Cafes 45
·         Route 2 – The Cottage Country 100 & Route 2A – The Cottage Country 80
·         Route 3 – Hills, Views & Pastries 80 & Route 3A – Hills, Views & Pastries 65
In addition to the physical signage, the routes have been digitally mapped using MapMyRide and Strava, both popular online applications based on the use of GPS capable mobile devices used by cyclists to plan and capture routes and performance, which can then be shared online.
"In addition to the wonderful variety of recreational cycling trails that are already established in our region, the Peterborough & the Kawarthas Classics road cycling routes will help to build this region's reputation not only as a premier cycling destination for recreational cycling, but for avid road cyclists as well," said Fiona Dawson, Director of Tourism, Peterborough & the Kawarthas Tourism
"Peterborough and the Kawarthas has, for quite some time, developed a rich culture of cycling. Be it commuters, riders who are training and racing, to the group following their own pace – dotting a casual route from one great cafe to another. From our doorstep, diverse topography presents many options to the cyclist looking for a unique experience on the bike. Now, with the addition of signed routes, key infrastructure is falling into place, helping solidify Peterborough and the Kawarthas as a cycling destination not to be missed. We are extremely proud of the team behind this initiative and are quite pleased to consider ourselves a partner," commented David Blondel, Marketing Manager, Bicycle Component and Accessories Division, Shimano Canada Ltd.
Route maps, highlights, places to stay and eat and other cycling related information is available here, and the public is encouraged to share their experiences via social media using #CyclePtbo.