September 13, 2013 (Belgium) – Benjamin Perry has been riding with the Lotto-Belisol U23 team this season. Perry was developed through the CHCH National Cycling Centre and has seen a lot of success. Here's his first report from Europe following the Canadian National Road Championships – read the initial announcement here.
Life in Belgium is better than ever for me. No, I am no longer winning races each weekend but it isn't all bad to be a small fish in the big Belgian amateur fishing pond. Gone are the days of countless attacks to get victories, the packs are bigger, the competition is all strong with older dudes, and everyone and their mom is riding in search of that elusive pro contract.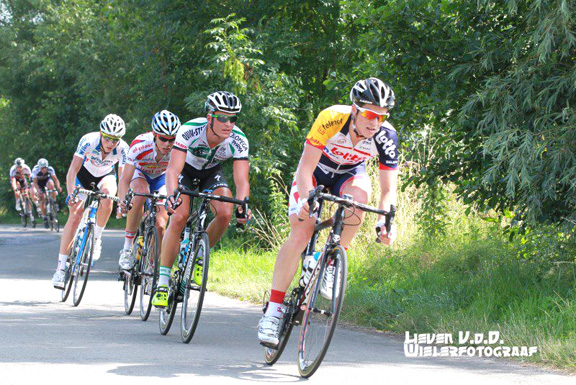 In the past six weeks since I returned to Europe after the Canadian Championships I have enjoyed quite a welcome lift in my performance and my results and I think it has all come together in-stride with my move to a new home in Europe. I learned the important lesson of balancing real life with the alternate universe of a bike racer. The difference has been spending my time with a really happy host family and spending time with my partner-in-crime, Quinten, picking up groceries, going to get-togethers, and fishing in their over-populated pond. These diversions have set me free of the constant focus on things like  saddle position or the watts I'm aiming for in an impending interval session. Getting away from it all when it gets too much is a mental vacation all athletes need.
During the month of July the Lotto racing calendar was pretty barren. With such a high calibre program and a team overloaded with 24 of Belgium's supposedly greatest potential U23 riders it wasn't easy to put me into any available races, considering that I was one of the youngest and weakest riders on the team.
But I learned plenty at many Belgian Kermis races. I raced nine events in five weeks and early on I was active but couldn't bag any sort of result. My form started coming in and in my last five kermis races I was 6th, 15th, 10th, 16th and an agonizing 2nd. I've made a habit of following anything that looks dangerous and only really drive it if I get good vibes from the move. Sometimes I've even started something myself on the harder parts of the course. While the learning curve is steep, I don't think I will be an apprentice much longer as I hone the craft of winning Elite races over here.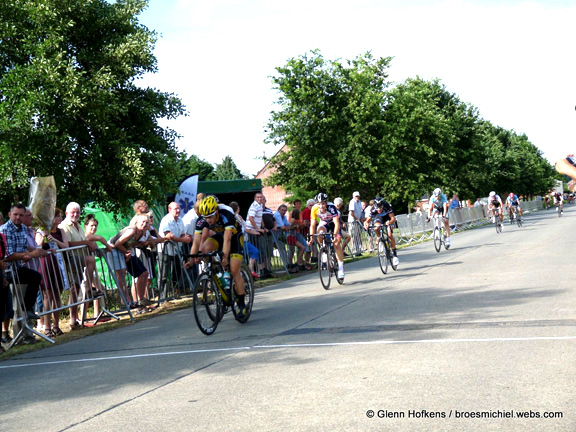 Since the beginning of August plenty of solid races have opened up in the team program. The best guys have moved on to become stagaires for the pro teams and I've had more opportunities to give it a go at some of the hard races. Last Sunday I raced in France at an Elite National level race, the highest level of amateur classification. Racing in France is loads of fun, always a big show, and made out to be a big deal even when the level of the competitors is only just above the lowest rung of the Belgian races. I stuck to my own little plan of marking the #1 ranked amateur in France.
At first I followed and we were five, then twenty five riders came up to us. I made it on the good side of a split and seven of us had a gap but it was short lived. Then I had a leaky rear tire and decided it would be better to ride a newer one with air in it still and had to stop and swap it out. I don't know how I made it back without a caravan, but I did. Once back on I was quick to realize ten guys had gone away and I was too cracked to really do much. I sprinted to a 23rd place.
On August 18th and 20th I competed in some nice races in Belgium – raging with the FourSeas as I call it – Cobbles, Climbs, Crashes and Crosswinds. The first race was a bit of a bummer for me personally but a huge success for Lotto. Taking turns attacking we got a little crafty and somehow pissed everyone off enough for them to make the mistake of letting four Lotto riders into an early move that just rolled off the front. They casually broke the move down and rode to 1st, 2nd, 3rd and 5th places while the two of us behind cracked ourselves following anything that moved. We did manage to make every split and I executed another feeble sprint good enough for 28th in the race.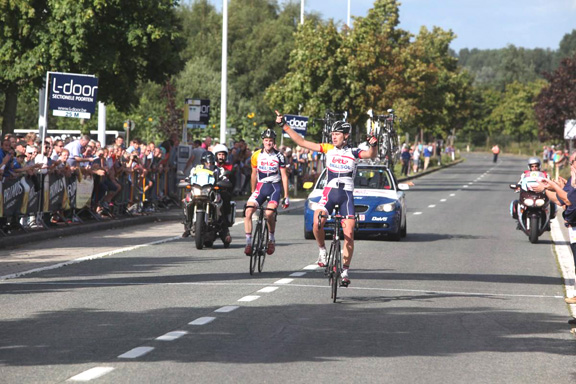 The race on Aug. 20th was like nothing I have done before and proved to be an excellent day at the races. One of the biggest amateur one day races of the Belgian summer had some loops from the Gent-Wevelgem Classic and plenty of hard climbs. But our results were a travesty. Arguably the strongest team there, I don't think we had a rider in the top twenty. The reason I had so much fun though was my experiences during the race and that professional feel I crave was just oozing out of our collective ride as a team.
I somehow dodged all crashes on the way out to the laps while bombing down little farm roads, even when I was in a lead group of six with ten seconds on the pack and two of the guys managed to crash into each other. First time up the cobbled Kemmelberg climb I was stuck behind a crash and had to do a track stand in order to have any hopes of getting going again. Then I led the peloton up a steep 2km climb and tried to put the hurt down.
The second time up the Kemmelberg I was in a much better position and was 4th over the top and took great joy in giving it the beans on such a fabled hill. While I was doing my best Sir Chris Hoy impression on 1,000m of Kemmelberg cobbles ahead of me, the winning break was escaping. Soon after the laps were over we had a little team meeting to address the situation and started acting like pros.
We organized with another team that had no riders up the road to set out catching the leaders in the 50km left to the finish. We were just suffering, suffering and suffering in TTT mode and the gap was barely shrinking. Eventually it went from three minutes to nineteen seconds in the final kilometers but we never caught the leaders. Attacking historic climbs and working as a team to pull back a break was a cool thing you don't often experience.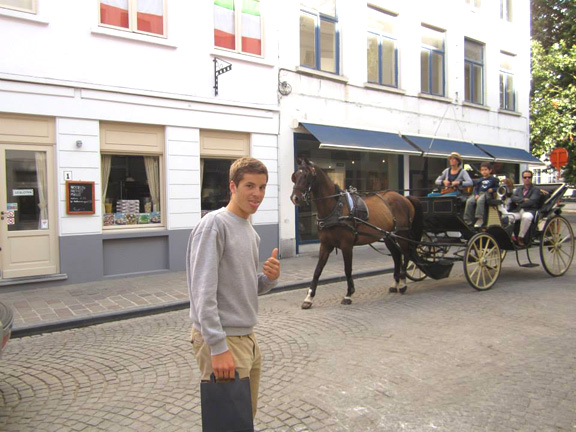 What lies ahead is one last race with Lotto before the season ends at a four-day race in Palencia, Spain. Then I'll meet up with some Canadians for some more kermis racing and then a one -day race in France. Afterwards I will be heading back to St. Catharines for a busy off-season of racing on the boards, fields and roads as well as going to university, working, and dedicating my free time to praying that I can win a bursary of some sort this winter!