December 28, 2012 (Toronto, ON) – We've received several comments from readers regarding our final issue of the season, Pedal Holiday-Winter 2012, with Michael Barry featured on the cover. Local Toronto rider, Erik Box, posted the following note on our FB page and here's our response and explanation for the Barry cover… we invite more comments here on this post or on our Forum.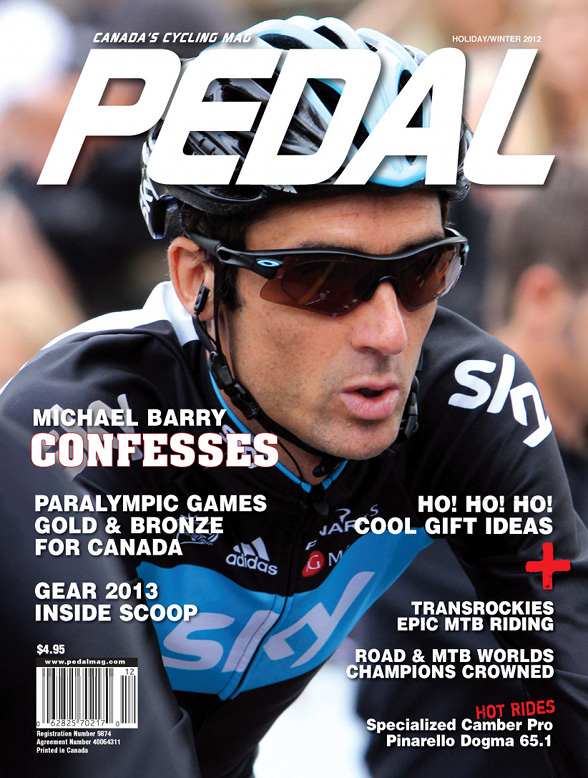 Erik Box posted on Pedal Magazine's FB page
"Good to see Pedal Magazine supporting and acknowledging an athlete (Micheal Barry), who has tainted and helped to ruin the sport I love. I refuse to support your magazine and will NOT be buying a copy. You, as the media, need to take a stand and promote athletes who are working hard and not getting the recognition they deserve. Why is someone like Benjamin Perry, who has a ton of talent, is working his butt off and getting results in Europe, while CLEAN, not on the cover?
Right now, what you're telling me, is that if I take drugs, cheat, lie, lie some more, oh ya, and lie again, take government funding from honest riders, etc.., well, you'll put me on the cover of a magazine! Sweet! Both you (Pedal Magazine) and Canadian Cycling Magazine, need to take some responsiblity regarding this matter and put the lime-light on those who actually deserve it; not those who have taken from and tainted, the sport of cycling."
Hi Erik,
Thanks for your comments and while we can see where you're coming from our intent was quite different. Michael Barry's confession is the most important cycling news story in Canada and we want to ensure that it's in everyone's face, not just another article in the magazine, hence the cover.
In the greater scheme of things doping in sport is the bigger story in which Barry played a part, and we believe his shameful acts, and the truth behind them must be told front and centre.
Dishonesty or cheating can be found in any arena of the human condition, and while we cannot right the wrongs, we can strive for a better tomorrow by revealing the dishonesty and punishing the perpetrators, and thereby hope to prevent others from falling into the shameful trap that Mr. Barry acceded to. Yet we are grateful that he agreed to share his story with readers.
Yes, Barry is guilty of doping, lying and lying again – a bed he must lie in forever. He joins a long list of now revealed dopers as none were brave enough to withstand the system. But Barry and the others can still contribute to the solution from the sidelines as examples of players that brought dishonour to themselves and to the sport within a flawed system.
To this date Mr. Barry has never made the cover of Pedal and I hardly think anyone is proud of the reason that he finally did.
Sincerely,
Benjamin Sadavoy
publisher/editor