November 25, 2015 – Planning for our Pedaling for Parkinson's July 15-17, 2016 ride in Parry Sound, Ontario is underway. 100% of all the money that is raised goes directly to the Pedaling for Parkinson's Research Grant, which was created by Parkinson's Society of Canada's National Research Program. The ride is open to riders of all skill levels from first time riders to seasoned cyclists. Riders can choose to ride 1, 2, or 3 days and the distances range from 40 to 130 km. Visit www.pedalingforparkinsons.ca.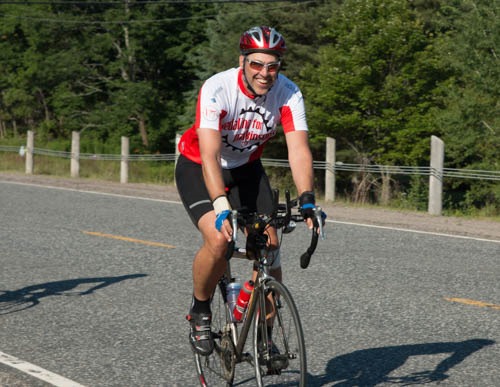 In 2011, longtime friends, Peter and David founded the event to raise awareness and research funds for Parkinson's. Over three days, cyclists pedaled over 100,000 pedal strokes 1 pedal stroke for each Canadian diagnosed with Parkinson's. Our inspiration was David's father, diagnosed with Parkinson's and a close friend/neighbour of Peter's recently diagnosed with Parkinson's.In 2011, 20 riders participated and over $18,000 was raised.

In 2012, over 70 riders participated and over $54,000 was raised.

In 2013, we eclipsed 100 riders and generated over $95,000!

In 2014, with more than 170 riders over the course of the weekend the event raised more than $160,000!

In 2015, more than 210 riders participated raising over $173,000 for a lifetime total in excess of $500,000!

Planning is underway to run the event again on July 15th-17th, 2016 in Parry Sound, Ontario.

We hope you will consider participating in the Pedaling for Parkinson's and help make a difference in the lives of people and families affected by Parkinson's.
Register here.
Donate here.
Volunteer here.
For more info, go to www.pedalingforparkinsons.ca