January 02, 2018 (Toronto, ON) – We apologize for the short delay and are very pleased to announce the winners of Pedal Magazine's 2017 Cycling Awards that recognize all categories including juniors, seniors, U23 and paracyclists from all disciplines encompassing road, MTB, DH, cyclocross, track and BMX.
The big winner this year was Michael Woods taking three categories winning Best Overall Cyclist (Male or Female), Best Overall Senior/U23 Male Cyclist and Best Road Senior/U23 Cyclist (Male or Female). Woods had a milestone season that began with racing to 9th at Liege-Bastogne-Liege followed by a 5th-place result on Stage 8 at the Giro d'Italia. Then at the Vuelta a Espana he was third on Stage 9 and claimed a stellar 7th overall. He re-signed with Cannondale Drapac which becomes Education First-Drapac p/b Cannondale in 2018.
"Looking back I'm both satisfied and pleased with my performances, but I am also finding a lot of motivation from this past season. I had some solid results in 2017, but I still feel that there are areas I can continue to improve upon, and this gets me excited for the season to come. I'm honoured knowing that these cycling awards are from votes by Canadian fans and feel very lucky to have so much support. This was a special year for me on a lot of fronts, and I could not have had the success I had, on the bike, without the support of my wife, my family, my coach, my team, and B2Ten," said Woods.
The Best Overall Senior/U23 Female Cyclist award went to Jasmin Duehring with a pedigree on both the road and the track. Highlights of her 2017 season include winning historic silver in the women's Points race, Canada's first medal at the 2017 UCI TISSOT Track World Cup, at the Milton Velodrome. She had two Scratch Race wins at the London Six Day and podiums at the Redlands Bicycle Classic and Cascade Cycling Classic.
"It's always a challenge to balance my goals on the road and track and even more so this year as I also finished my degree on the side. I am super grateful to my team, the cycling community, and most of all my family for all their support to help make the year a success," said Duehring.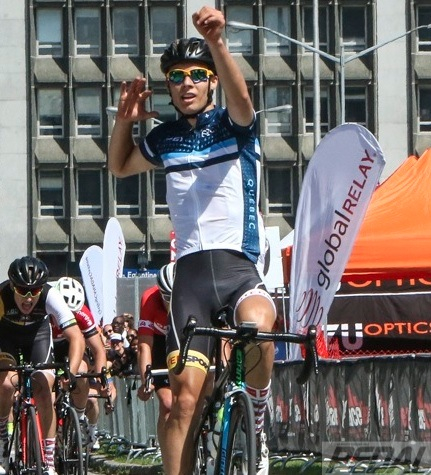 Reigning junior men's road champ, Charles-Etienne Chretien, took the Best Overall Junior Male Cyclist award while double Junior Worlds medalist, Maggie Coles-Lyster, who won historic gold in the Points race and silver in the women's Omnium, defended her Best Overall Junior Female Cyclist award.
The Best Track Senior Cyclist (Male or Female) went to Men's Team Pursuit squad with Adam Jamieson, Aidan Caves, Jay Lamoureux, Bayley Simpson, Derek Gee, and Ed Veal having another fab season.
On the MTB side Elite women's national champ, Emily Batty, took home the Best MTB XC Senior/U23 Cyclist (Male or Female) while Miranda Miller claimed the Best MTB DH Senior Cyclist (Male or Female) award with her landmark Elite Women's DH Worlds title.
Michael Van Den Ham reclaimed the Best CX Senior/U23 Cyclist (Male or Female) award with a stellar first-time victory in the Elite Men's race at nationals.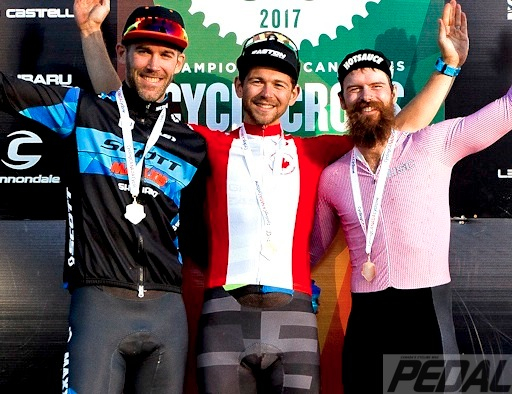 "It's an honour to be selected at the top CX Senior/U23 Cyclist (Male or Female) this past season. When I saw the riders up for nomination this year, I was and still am hugely impressed by the quality of my fellow Canucks. One of the most exciting things about the sport in Canada is that the level of our nationals top athletes just seems to be increasing so rapidly. I've been having my best season to date, but so have other riders like Ruby, Maghalie, Christel, and Mark. So, with that, I guess I'll enjoy this award now because I know it's only going to get more and more difficult to win in the future," said Van Den Ham.
Tory Nyhaug also defended his Best BMX Cyclist (Male or Female) award with another fabulous season while Charles Moreau was honoured for the first time as Best Paracycling Cyclist (Male or Female).
This was another amazing season with so many memorable performances and accolades to select from. The 2017 Best Canadian Cycling Moment/Performance was a virtual tie between Woods 7th overall at the Vuelta and Miller's DH Worlds title. Honourable mention goes to Coles-Lyster's Junior Worlds gold, Rob Britton's Tour of Utah GC victory and Matteo Dal-Cin's epic road nationals Elite men's title win.
Congratulations to all winners and readers that voted. It's great to see many of Canada's top riders recognized for their fabulous efforts both at home and abroad.
Once again we also had great response to our "fun" categories naming the country's best shops, cafes, events, and places to ride and we will present these results shortly.
Pedal Magazine's 2017 Cycling Award WINNERS
——————————————————————-
Best Overall Cyclist (Male or Female)
Michael Woods
Best Overall Senior/U23 Male Cyclist
Michael Woods
Best Overall Senior/U23 Female Cyclist
Jasmin Duehring
Best Overall Junior Male Cyclist
Charles-Etienne Chretien
Best Overall Junior Female Cyclist
Maggie Coles-Lyster
Best Road Senior/U23 Cyclist (Male or Female)
Michael Woods
Best Track Senior Cyclist (Male or Female)
Men's Team Pursuit (Adam Jamieson, Aidan Caves, Jay Lamoureux, Bayley Simpson, Derek Gee, Ed Veal)
Best MTB XC Senior/U23 Cyclist (Male or Female)
Emily Batty
Best MTB DH Senior Cyclist (Male or Female)
Miranda Miller
Best CX Senior/U23 Cyclist (Male or Female)
Michael Van Den Ham
Best BMX Cyclist (Male or Female)
Tory Nyhaug
Best Paracycling Cyclist (Male or Female)
Charles Moreau
2017 Best Canadian Cycling Moment/Performance
Michael Woods 7th Overall at the Vuelta a Espana
Miranda Miller's Elite Women's DH Worlds title