January 04, 2016 (Toronto, ON) – The final ballots are in and sorry for the delay as we're very pleased to announce the winners of Pedal Magazine's 2015 Cycling Awards that recognize all categories including juniors, seniors, U23 and paracyclists from all disciplines encompassing road, MTB, DH, cyclocross, track and BMX. This year saw the most votes ever – over double any previous year.
The big winner this year was mountain biker Raphaël Gagné of Québec City. He enjoyed a breakout season during which he won the prestigious US Cup Series as well as the Canadian MTB XCO title, followed by the Cyclo-cross title this past October. He posted career-best UCI MTB XCO World Cup results, including a stellar sixth place in Windham, New York. The highlight of his season was capturing gold in the Toronto 2015 Pan Am Games mountain bike race. He was voted by Pedal readers as winner of the Best Overall Cyclist (Male or Female), along with the Best Overall Senior/U23 Male Cyclist.
"I would like to thank Pedal Magazine readers and everybody else for this recognition. It's great that cycling fans can voice their support through these awards and 2015 has been an awesome season for me with MTB and CX racing. My most memorable success has definitely been my gold medal at PanAm Games in Toronto, I was proud to win at home in front of a Canadian cheers. Being able to deliver at a major international Games when it counts made it that much better. Thanks to my coach Michel Leblanc that helps me find how to get the best out of me every day. Thanks to Rocky Mountain, Cycling Canada and Team Québec for the support in my 2015 MTB race season as well as Red Truck – Garneau p/b Easton Cycling for the support in my cyclocross season. 2016 is well underway, I'm feeling fresh and I am motivated for all the great opportunity and challenges the next racing season has to offer," wrote Gagné.
Pan Am Games women's mountain bike gold medal winner Emily Batty of Brooklin, ON also took home two awards, including Best Overall Senior/U23 Female Cyclist and Best MTB XC Senior/U23 Cyclist (Male or Female). She posted some great results last season, including multiple World Cup podiums and a seventh place at the UCI MTB World Championships in Andorra.
The Women's Team Pursuit squad of Jasmin Glaesser, Stephanie Roorda, Allison Beveridge, Kristi Lay, Laura Brown and Annie Foreman-Mackay were voted the Best Track Senior Cyclist (Male or Female) for their continued success on the track, winning gold at the Pan Am Games, as well as World Cup gold in Cali Colombia as they build momentum for the Rio 2016 Olympics.
"We are thrilled that the Canadian cycling community selected us for the category of best Senior Cyclist. Its always an honour to represent the maple leaf around the World and we strive to make our country proud every time we take to the boards. We wouldn't be where we are as a team and as individuals without the immense support we have received from our coaches, Cycling Canada, and of course the cycling community. Thank you!" said Glaesser.
Michael Woods took home the Best Road Senior/U23 Cyclist (Male or Female) category, who turned heads this past season for his performance at the Tour of Utah, where he won the King of the Mountains jersey. His efforts earned him a contract with WorldTour team Cannondale-Garmin.
"I am very honoured to win Pedal Mag's Best Road Senior award.  This year was a very strong year for Canadian road cycling, and to be recognized as one of leaders in this category is special.  I had a great season in 2015 and I couldn't have had this success without the support of my team, Optum P/B Kelly Benefits Strategies, my wife and family, and my coach Paulo Saldanha. Finally, big thanks to all who voted!" Woods told Pedal.
Downhiller Steve Smith, who has battled with serious injuries for the past two seasons, has had a tough road back to competition. Candian fans recognized his hard work and determination and voted him Best MTB DH Senior Cyclist (Male or Female). Despite a tough season, he managed to get a taste of the World Cup podium again with a fifth place in Windham, NY.
Michael Van Den Ham was voted Best CX Senior/U23 Cyclist (Male or Female) for his grit and strong showing on the domestic stage where he helped teammate Gagné win the Canadian title in Winnipeg, after leading for much of the race. He has since been tearing it up in Europe as he prepares for the World Championships later this month.
"I'm thrilled to receive an award for being the best 'cross racer in Canada! When we packed up and headed to Europe this fall I wasn't sure what our trip would bring so I've been very pleased with the success that I have had and the skills I've gained over here. I think there are any number of deserving recipients (Mical's ride at the 2015 world's is more than noteworthy, Raph [Gagne] dominated at Nationals and in Northampton, and Mark and Aaron have been dedicated to Europe all year, to name just a few), so I'm very honoured to have been chosen as the top Canadian 'cross racer among those racers," said Van Den Ham.
Tory Nyhaug yet again sprinted into top spot in the Best BMX Cyclist (Male or Female) category after a fabulous season that included Pan Am Games gold and silver at the UCI BMX World Cup finals in Rock Hill, SC.
In the Best Paracycling Cyclist (Male or Female) category, it was the golden tandem team of Daniel Chalifour (Visually Impaired) and Alexandre Cloutier (Tandem Pilot) who took top honours after winning multiple golds at the Parapan Am Games.
Best Overall Junior Female Cyclist went to Katherine Maine of Ottawa. She finished 13th at the UCI Road World Championships in Richmond, VA, and earned 11th place in the Omnium at Track Worlds, plus two Canadian track tites. "Thank you so much," she said. "I am honoured to have won among such a talented field. 2015 was an amazing season. A special thanks to my coaches Don Moxley and Jenny Trew, my teammates on The Cyclery-Opus, the support I have received from the OCA and Cycling Canada as well as everyone else who has contributed to my success."
Mountain biker Raphaël Auclair of Québec City earned the most votes in the Best Overall Junior Male Cyclist after a courageous performance at the UCI World MTB XCO Championships that saw him finish ninth. He also captured the Canadian Championship and the Canada Cup Series title in the discipline. He is also the 2015 Junior Men's road criterium champion.
"Happy New Year to you! Thanks for organizing this contest! It gives cycling great visibility on social medias. I'm super happy to win this award!" said Auclair.
We were swamped with entries Canadians can be very proud of for the Best Canadian Cycling Moment/Performance in 2015, but it was Team Canada's performance at the 2015 Toronto Pan Am Games that earned by far the most votes. With 14 medals, the Games were a true highlight of an extremely successful season in Canadian cycling.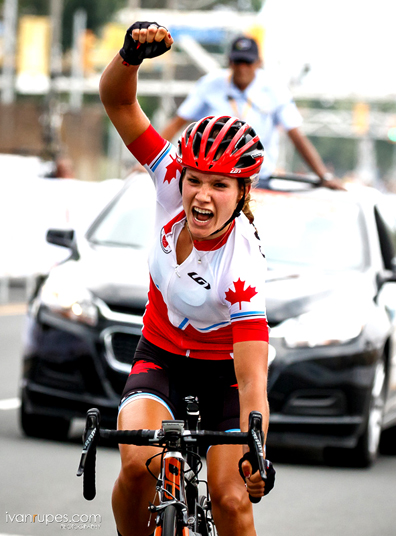 Pedal caught up with Cycling Canada High Performance Director – Head Coach to get his response: "We (Cycling Canada) are grateful to have received the Pedal award for best Canadian Cycling moment through our performances at the 2015 Panam and ParaPanam Games in Toronto. All of our athletes and staff were really motivated to perform in front of our home crowd in July and August of last year; and they did not disappoint. We carry the success of the Toronto Games with us now to motivate us all as we embark on the next and final milestone of the Olympic and Paralympic Quadrennial; the 2016 Rio Games. We intend to use the learnings of our lead up to the PanAm and Parapan Am games to maximize our performance potential in Rio. The Toronto Games of 2015 have unequivocally permitted us to raise the performance bar for 2016 and moving on into the 2020 quadrennial. Thanks to all that have voted for us and thanks to Toronto for putting on these great Games!"
We also caught up with Cycling Canada President John Tolkamp for the final word on a superb season. "It's fantastic to see the country recognize the national team's performance at Pan Am's and mirrors how the team came together and performed. This recognition extends to not only the athletes, but to the coaching and support staff, who were an integral part of the results and we look forward to building on our Pan Am success in Rio," wrote Tolkamp.
Congratulations to all winners and readers that voted – this year was by far the best voting turnout ever and it's great to see many of Canada's top riders recognized for their fabulous efforts both at home and abroad.
Once again we had great response to our "fun" categories naming the country's best shops, cafes, events, and places to ride and we will present these results shortly.
Pedal Magazine's 2015 Cycling Award WINNERS
——————————————————————-
Best Overall Cyclist (Male or Female)
Raphael Gagné
Best Overall Senior/U23 Male Cyclist
Raphael Gagné
Best Overall Senior/U23 Female Cyclist
Emily Batty
Best Overall Junior Male Cyclist
Raphael Auclair
Best Overall Junior Female Cyclist
Katherine Maine
Best Road Senior/U23 Cyclist (Male or Female)
Michael Woods
Best Track Senior Cyclist (Male or Female)
Women's Team Pursuit (Jasmin Glaesser, Kirsti Lay, Allison Beveridge, Laura Brown, Steph Roorda, Annie Foreman-Mackay)
Best MTB XC Senior/U23 Cyclist (Male or Female)
Emily Batty
Best MTB DH Senior Cyclist (Male or Female)
Steve Smith
Best CX Senior/U23 Cyclist (Male or Female)
Michael Van Den Ham
Best BMX Cyclist (Male or Female)
Tory Nyhaug
Best Paracycling Cyclist (Male or Female)
Daniel Chalifour (Visually Impaired) and Alexandre Cloutier (Tandem Pilot)
2015 Best Canadian Cycling Moment/Performance
Team Canada's collective performance at the Toronto 2015 Pan Am Games