January 02, 2013 (Toronto, ON) – The final ballots are in and we're pleased to announce the winners of Pedal Magazine's 2012 Cycling Awards that recognize all categories including juniors, seniors, U23 and paracyclists from all disciplines encompassing road, MTB, DH, cyclocross, track and BMX.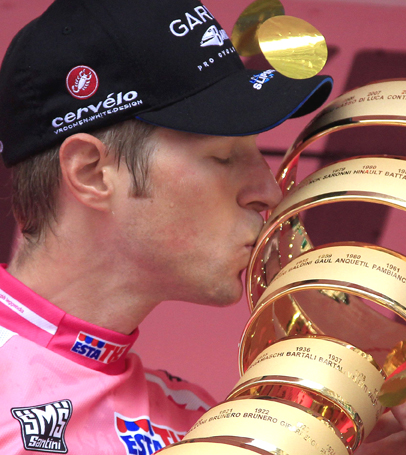 The big winner this year was Ryder Hesjedal, the reigning Giro d'Italia champ and the first Canadian to win a Grand Tour. He won three contest categories, including the Best Overall Cyclist (Male or Female) award, along with the Best Overall Senior/U23 Female Cyclist (Male or Female), and Best Road Senior/U23 Cyclist (Male or Female).
Hesjedal went on to represent Canada at the Olympics, despite injuries sustained in a crash during the Tour de France, which forced him to abandon. Not surprisingly, Pedal readers voted Hesjeda's Giro win as the Best Canadian Cycling Moment/Performance in 2012.
The Women's Team Pursuit squad consisting of Tara Whitten, Jasmin Glaessar, and Gillian Carleton took home two awards for the Best Overall Senior/U23 Female Cyclist and the Best Track Senior Cyclist (Male or Female).
We had a tie for the Best CX Senior/U23 Cyclist (Male or Female) shared by Emily Batty and Geoff Kabush and there were several very close races and honourable mentions are inidicated below in the respective categories.
Congratulations to all winners and readers that voted – this year was by far the best voting turnout ever and it's great to see Canada's top riders recognized for their fabulous efforts both at home and abroad.
Just a note that the results from our new "fun" categories will be coming shortly – we had such an overwhelmingly large response, we're still sifting through everyone's wonderful nominations for the country's best shops, cafes, events, and places to ride!
Pedal Magazine's 2012 Cycling Award WINNERS
——————————————————————-
Best Overall Cyclist (Male or Female)
Ryder Hesjedal

Best Overall Senior/U23 Male Cyclist
Ryder Hesjedal
Best Overall Senior/U23 Female Cyclist
Women's Team Pursuit – Tara Whitten, Jasmin Glaessar, Gillian Carleton

Best Overall Junior Male Cyclist
Joachim Albert
Honourable mention to Benjamin Perry (81 vs 82 votes)

Best Overall Junior Female Cyclist
Audrey Labrie
Best Road Senior/U23 Cyclist (Male or Female)
Ryder Hesjedal
Best Track Senior Cyclist (Male or Female)
Women's Team Pursuit – Tara Whitten, Jasmin Glaessar, Gillian Carleton
Honourable mention to Tara Whitten
Best MTB XC Senior/U23 Cyclist (Male or Female)
Catharine Pendrel
Best MTB DH Senior Cyclist (Male or Female)
Steve Smith
Best CX Senior/U23 Cyclist (Male or Female)
Emily Batty – Tie
Geoff Kabush – Tie

Best BMX Cyclist (Male or Female)
Tory Nyhaug
Best Paracycling Cyclist (Male or Female)
Robbie Weldon/Lynn Bessette
2012 Best Canadian Cycling Moment/Performance
Ryder Hesjedal winning the Giro