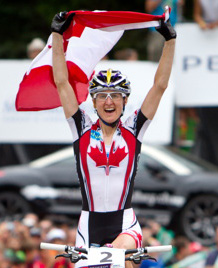 December 30, 2011 (Toronto, ON) – Voting continues to be brisk as the deadline to cast your ballots for who you think are the most successful and deserving Canadian riders for 2011 is approaching quickly. The voting for Pedal Magazine's 2011 Cycling Awards closes at 6pm EST on Dec. 31st (tomorrow!).
Some exciting races continue among the nominees. Catharine Pendrel has 33% of the vote so far in the Best Overall Cyclist category, followed by Ryder Hesjedal with 21%. It looks like it could be a hat-trick for Pendrel who is also the front runner for the Best Overall Senior/U23 Female Cyclist and the Best MTB XC Senior/U23 Cyclist (Male or Female)
The contest is especially tight in the Best CX Senior/U23 Cyclist. Geoff Kabush leads with 28% of the vote, while Emily Batty and Evan McNeely are tied with 23%.
The Junior categories are still tight as well with Annie Ewart and Benjamin Perry leading but  Allison Beveridge and Alex Cataford can still rebound. In the BMX race Tory Nyhaug is pulling away from Connor McCormack and the latter will need a final surge to catch him.
Pedal's Awards recognize all categories including juniors, seniors, U23 and paracyclists from all disciplines including road, MTB, DH, cyclocross, track and BMX. Here's your opportunity to recognize the many talented riders from across the country and celebrate the stand-out performances from this past season. Winners will be selected on the basis of votes tallied from across the country at pedalmag.com. All entrants are eligible to win one of three prizes:
* 1st prize – a 1-yr subscription to Pedal
* 2nd prize – a Pedal News Boy Hat
* 3rd prize – a Pedal T-Shirt
Please include your email address [at the end of the process] if you wish to be eligible to win any prizes.
You can complete as many or as few categories as you like, but you are limited to only ONE entry per person. Please fill out a ballot and cast your vote today.
Deadline – voting ends at 6pm (EST) on December 31, 2011
Winners – will be announced on January 1, 2012
—————
Thanks to everyone who voted.