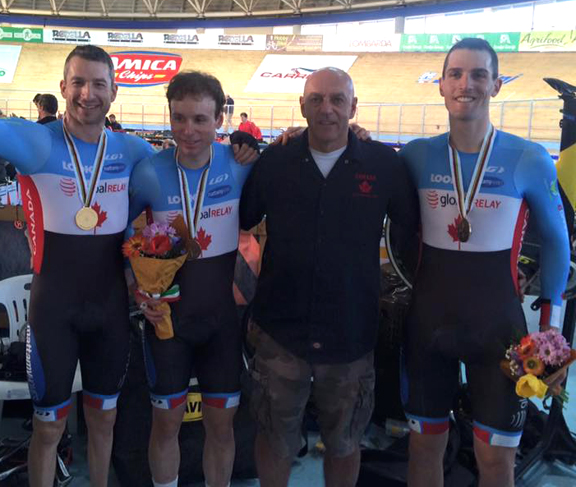 March 18, 2016 (Montichiari, ITA) – Canada followed up its double medal opening day at the Para-cycling Track World Championships, in Montichiari, Italy, with two more medals on Day 2, including a second world title for C2 rider Tristen Chernove of Cranbrook, B.C. The tandem team of Daniel Chalifour (Mont-Laurier, QC) and Jean-Michel Lachance (Quebec, QC) added a bronze medal to Canada's total. –
read Day 1 report here.
Chernove, a member of the Para NextGen program competing at his first world championships, won the Individual Pursuit title on Thursday.  On Friday, his time of one minute and 13.279 seconds for the 1000 metre Time Trial was over two seconds faster then second place Xie Hao of China, the defending champion.  Louis Rolfe of Great Britain took the bronze medal.  Chernove also qualified for Saturday's final in the Scratch Race, after avoiding a crash and finishing fourth in his qualifying race.
"The Kilo [doesn't have] a lot of strategy," explained Chernove, "you just go out and push yourself as hard as you can and hope for the best. The Scratch Race is all about being switched on and paying a lot of attention. You want to move through [to the Final] and be safe at the same time.  It's hard to be here and not be blown away by the level of athleticism.  Every athlete works to overcome challenges, but here the challenges are so visible, and you see how adaptive people have to be. It's awe-inspiring."
In the Men's Tandem Pursuit, the Canadian squad qualified fourth, setting up a race against third fastest qualifier Great Britain for the bronze medal.  Chalifour and Lachance took the bronze medal race with a time of 4:17.409, 1.26 seconds faster then Great Britain.  Australia took the gold medal over Spain.  The Canadian time was nearly six seconds faster then their previous best time, and a new Canadian record.
"Today we did two times the best time that we have ever done, which was amazing," said Chalifour. "I would like to thank Jean-Michel, who has just joined me in this adventure after my previous pilot Alex [Cloutier] could not participate.  You need to have two athletes dedicated to this job 100%.  I would like to dedicate this to my father, who has fought against cancer for the last two years – this is for you Dad."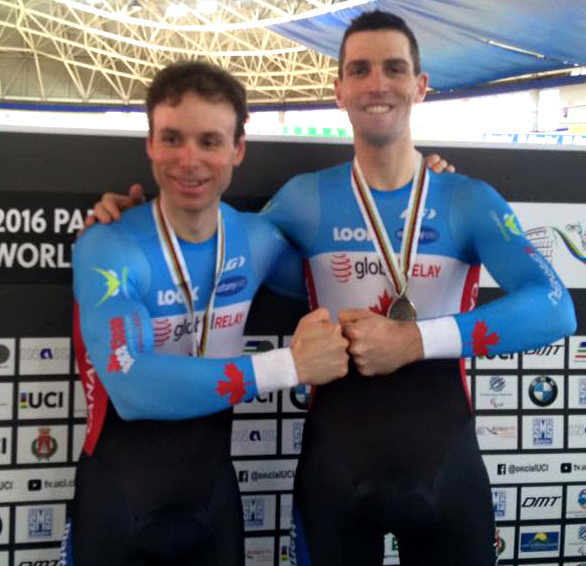 "Daniel and I are very happy and proud of the result. We have been training hard in Portugal the two weeks prior to the Worlds Championships with the coach Eric Van Den Eynde and we could feel the progress. Personally, I am especially proud to have come back in such form after breaking my femur and elbow 4 months ago in Guatemala in a high speed crash," wrote Lachance from the Velodromo Fassa Bortolo di Montichiari in Italy.
"We did a perfect race, qualifying 4th but it was a close call to miss the final round as three other tandem teams had the same time as us. With 2.5 laps to go in our qualification ride, we tried to pass the Italians but they accelerated and so we were never able to pass them, riding on the red line for the last two laps and losing around 1.5 seconds which would have qualified us a solid third spot with a 4min15sec time.
"Knowing that, we simply tried to execute the same effort for the final and we came one second ahead of the British team in the final. It was very exciting to deliver that result especially with the level which is very high this year at these championships. Tomorrow is the time trial (Kilo). It is not our strength, but we'll give our best effort again.
"I would like to add an emphasis on the tremendous support from the head coach, Eric Van Den Eynde, and the rest of the support staff. Eric really took the best out of us and this medal couldn't have been achieved without him," he concluded.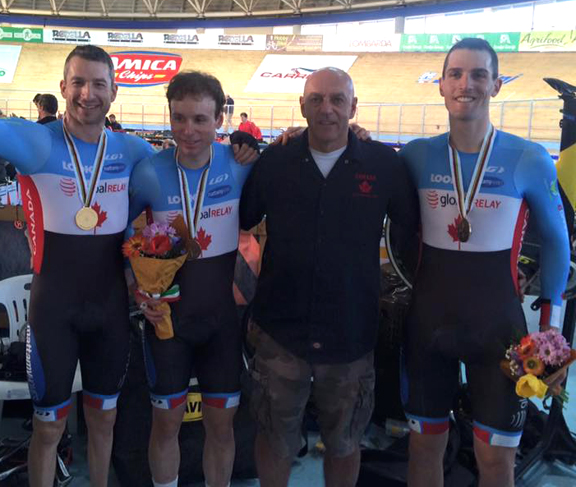 Ross Wilson of Edmonton, AB, just missed taking his second medal of the championships when he finished fourth in the Men's C1 1000 metre Time Trial with a time of 1:21.851.  Jaye Milley of Calgary, AB, finished tenth in the same event.  Michael Sametz of Calgary, AB, finished 14th in the Men's C3 1000 metre Time Trial.
"The race went very well today," said Milley. "It was absolutely phenomenal to race among the best para-cyclists in the world.  World records were broken here today.  My ride went well, but it wasn't a personal best, unfortunately, but I had a personal best in the Pursuit yesterday, which was my main focus.  I want to say a personal thank you to the Cycling Canada staff – you are the backbone of the team, and we would not be able to do what we do without you."
National Para Coach, Eric van den Eynde, also commented on the success of the team in the first two days of competition: "Today, like yesterday, was another good day. The tandem was more of a surprise today; they are a new team, and the only expectation was to beat the Canadian record of 4:23. I thought that there were three teams that were untouchable, and that we were in the next group. But then we finished fourth [in qualifying] and were into the race [for bronze]."
"Tristen was a professional athlete before [he became a para athlete], so he knows how to train and that really pays off.  What we see now is only the beginning of what he will be."
Canada now has two gold, one silver and one bronze medal in two days of competition.
Results (brief)
Men C2
1km Time Trial
1. Tristen Chernove (Canada)    1:13.279
2. Xie Hao (China)    1:15.311
3. Louis Rolfe (Great Britain)    1:15.925
Men C1
1km Time Trial
1. Arnoud Nijhuis (Netherlands)    1:12.423
2. Zhangyu Li (China)    1:12.597
3. Rodrigo Fernand Lopez (Argentina)    1:20.296
4. Ross Wilson (Canada)    1:21.851
Men B
4km Pursuit
Qualifications
1. Spain 4:12.528
Ignacio Avila Rodriguez
Joan Font Bertoli
2. Australia  4:12.568
Kieran Modra
David Edwards
3. Great Britain     4:16.555
Stephen Bate
Adam Duggleby
4. Canada   4:17.178
Daniel Chalifour
Jean-Michel Lachance
Fastest 2 riders race for gold
3rd and 4th race for bronze.
Final for Gold
1. Australia  4:12.324
Kieran Modra
David Edwards
2. Spain  4:16.406
Ignacio Avila Rodriguez
Joan Font Bertoli
Final for Bronze
3. Canada 4:17.409
Daniel Chalifour
Jean-Michel Lachance
4. Great Britain  4:18.669
Stephen Bate
Adam Duggleby