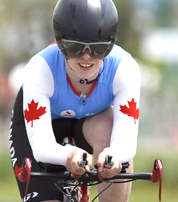 June 08, 2015 (Ottawa, ON) – Canada earned two bronze medals on the last day of competition at the UCI Para-Cycling Road World Cup in Italy with Marie-Claude Molnar (WC4) and Nicole Clermont (WC5) each racing to the third place of the road races.
Molnar posted a time of 1:44:10 of racing, crossing the finish line five minutes behind the first two places.
In the women's C5 race, Nicole Clermont managed to squeeze in the third place, winning the bronze medal with a time of 1:39:14, also five minutes behind the gold and silver medallists.
Canada ends this season's opening World Cup event with nine medals – two gold, two silver and five bronze medals. The success of the Canadian team is significantly important as each nation are battling for Paralympic Games qualifications in each class.
The team will now travel to Switzerland for the second leg of the UCI World Cup tour in Yverdon-Les-Bain, starting Friday June 12.
WOMEN C4
1. MORELLI, Shawn WC4 USA 1:39:11
2. NARCISI, Jenny WC4 INDEPENDANT 1:39:11 ST
3. MOLNAR, Marie-Claude WC4 CANADA 1:44:10 +4:59
WOMEN C5
1. HARKOWSKA, Anna WC5 POLAND 1:34:14
2. BRACHTENDORF, Kerstin WC5 INDEPENDENT 1:34:14 ST
3. CLERMONT, Nicole WC5 CANADA 1:39:14 +5:00
WOMEN B
1. VAN BOMMEL, Anouk/JOCHEMS, Sigrid WB INDEPENDANT 2:07:47
2. CHALKIADAKI, Adamantia/MILAKI, Argyro WB GREECE 2:07:47 ST
3. VAN DEUDEKOM, Odette/VAN DIJK, Kim WB INDEPENDENT 2:07:47 ST
5. RYAN, Shawna/LEMIEUX, Audrey WB CANADA 2:07:47 ST
9. WELDON, Robbi/CARON, Joanie WB CANADA 2:09:05 +1:18
MEN C1
1. PUSATERI, Andrea MC1 INDEPENDANT 1:46:13 ST
2. WINKLER, Erich MC1 INDEPENDANT 1:46:13 ST
3. TEUBER, Michael MC1 INDEPENDANT 1:46:13 ST
7. MILLEY, Jaye MC1 CANADA 1:51:35 +5:22
MEN C3
1. ANOBILE, Fabio MC3 ITALY 2:18:29
2. WARIAS, Steffen MC3 INDEPENDENT 2:18:29 ST
3. BATUKOV, Sergey MC3 RUSSIA 2:18:29 ST
14. SAMETZ, Michael MC3 CANADA 02:18:36 +0:07
MEN B
1. BERSINI, Emanuele/RICCARDO, Panizza MB ITALY 2:23:47
2. BATE, Stephen/DUGGLEBY, Adam MB GREAT BRITAIN 2:24:03 +0:16
3. POLAK, Marcin/LADOSZ , Michal MB POLAND 2:24:04 +0:17
8. CARRIER, Alexandre/LAFLAMME, Aroussen MB CANADA 2:24:12 +0:25
9. CHALIFOUR, Daniel/CLOUTIER, Alexandre MB CANADA 2:24:17 +0:30
15. CROTEAU-DAIGLE, Matthieu/BOILY, Pierre-Olivier MB CANADA 2:30:00 +6:13