August 31, 2013 (Baie-Comeau, QC) – Canada added two medals to its tally at the 2013 Para-Cycling Road World Championships in Baie-Comeau, with Marie-Claude Molnar riding away with the silver medal, and Jaye Milley taking an impressive bronze medal in the time trial events.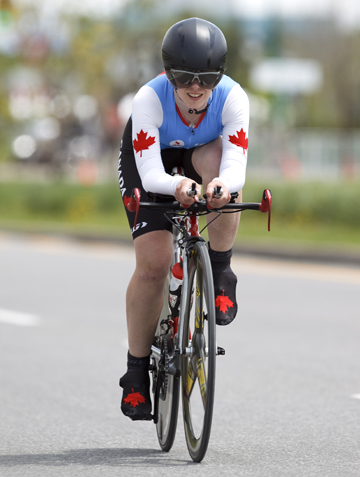 The Canadian men tandem of Daniel Chalifour and Alexandre Cloutier came very close to a medal in the tandem race, finishing just off the podium in fourth. The same can be said for Nicole Clermont, who also narrowly missed the podium in fourth by four seconds in the women C5 class.
Canada now have four medals at this major event for the world's best para-cyclists.
The four-day event continues Saturday with the mass-start road races.
Results
Men C1
1. Juan Jose Mendez (Spain) 27:10.91
2. Michael Teuber  (Germany) 1.16
3. Jaye Milley  (Canada) 33.80
8. Brayden Mcdougall (Canada) 2:37.17
Men C2
1. Aaron Keith (USA) 25:43.86
2. Maurice Eckhard Tio (Spain) 3.59
3. Colin Lynch  (Ireland) 49.61
18. Arnold Boldt  (Canada) 3:22.32
Men C4
1. Carol-Eduard Novak  (Romania) 36:22.51
2. Jiri Jezek (Czech Republic) 5.59
3. Diego German Duenas Gomez (Coloia) 9.90
14. Sebastien Bouchard  (Canada) 6:09.36
Men B
1. Ivano Pizzi/Lucca Pizzi  (Italy) 32:52.68
2. Ignacio Avila Rodriguez/Joan Font Bertoli  (Spain) 23.04
3. Marcin Polak/Michal Ladosz  (Poland) 30.04
4. Daniel Chalifour/Alexandre Cloutier  (Canada) 45.47
19. Alexandre Carrier/Aroussen Laflamme  (Canada) 4:40.33
Women C4
1. Megan Fisher  (USA) 26:53.14
2. Marie-Claude Molnar  (Canada) 19.44
3. Susan Powell (Australia) 44.70
Women C5
1. Greta Neimanas  (USA) 26:08.57
2. Anna Harkowska (Poland) 51.57
3. Samantha Heinrich (USA) 1:11.46
4. Nicole Clermont (Canada) 1:15.66