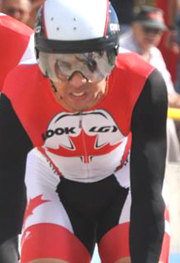 February 07, 2013 (Mexico City, Mexico) – The Pan-American Championships opened yesterday in Mexico City. The Canadian men's team set a new Canadian Olympic Sprint record yesterday to qualify in 43.68 seconds for the gold medal ride against Venezuela. While Venezuela proved faster in the final, riding 43.606 to the Canadians in 43.992, it was still a fantastic result for the Canadian team, which features Olympian Joseph Veloce, Stephane Cossette (who continues to recover from a foot injury) and Hugo Barrette.
In what is becoming a common trend at international events, the bronze medal ride was marked by the disqualification of third ranked team Columbia. This opened up the door for the USA to win the bronze. The American team had also set a national record in qualifying.
Given the high profile disqualifications in the Team Sprint at both the London Olympics (where Canadian commissaire Wayne Pomario created controversy with the disqualification of the British women's team of Victoria Pendleton and Jess Varnish in front of a home crowd), and the last Track World Championships, perhaps it's time that the UCI revisit the exchange rules for the team sprint.
In the men's Points race, Canada's Remi Pelletier-Roy, who rides for Garneau-Quebecor on the road, placed a strong fifth with 23 points and on the same lap as the Venezuelan winner Maximo Rojas.
Ex-speed skater, Kirsti Lay of Medicine Hat, competed in the women's individual pursuit for Canada, placing ninth in the 10-rider field (qualifying times are currently unavailable). Lay retired from competitive speed skating last year citing an ankle injury that had hampered her for the past two seasons. Read more HERE. She had been ranked in the top ten skaters in Canada in the 1,500m and had placed seventh in that event in the fall World Cup trials in late October.
In the women's 500m Cuban star Lisandra Guerra set a new Pan-American record with a time of 33.272.
The Canadian team competing in Mexico consists of:
- Remi Pelletier-Roy
- Joseph Veloce
- Stephane Cossette
- Scott Mulder
- Hugo Barrette
- Allison Beveridge
- Candice Vermeulen
- Kristi Lay
 Results
Women 500TT
1. Lisandra Guerra (Cuba) 33.272
2. Juliana Gaviria (Colombia) 33.933
3. Madalyn Godby (United States) 34.300
4. Mariesthela Vilera (Venezuela) 34.385
5. Marynes Chiquin Prada (Venezuela) 34.880
6. Missy Erickson (United States) 35.488
7. Erika Alanis (Mexico) 35.579
8. Martha Bayona (Colombia) 36.146
9. Laura Arias (Cuba) 36.260
10. Hyriah Karollyn Tiemann (Brazil) 36.584
11. Karen Cruz (El Salvador) 36.586
12. Wellyda Dos Santos (Brazil) 36.794
13. Aline Patricia Tamez (Mexico) 37.183
14. Yamilet Jimenez (Guatemala) 37.315
15. Mariela Delgado (Argentina) 37.789
16. Paula Lucrecia Guillen (Guatemala) 38.044
17. Cassandra Rodríguez (Costa Rica) 38.691
18. Marcela Rubiano (Costa Rica) 39.231
Men Points Race
1. Máximo Rojas (Venezuela) 49 pts
2. Jan Carlos Arias (Cuba) 43
3. Manuel Oseas Rodas (Guatemala) 37
4. Iván de Jesús Carbajal (Mexico) 34
5. Armando Reis Dacosta (Brazil) 25
6. Rémi Pelletier-Roy (Canada) 23
7. Marcos Crespo (Argentina) 9
8. Dorian Javier Monterroso (Guatemala) 6
9. Darren Matthews (Barbados) 5
10. Thiago Duarte (Brazil) 5
11. Adrian Ezequiel Richeze (Argentina) 5
12. Fernando Gaviria (Colombia) 3
13. Jorge Luis Contreras (Chile) 3
14. William David Muñoz (Colombia) 3
15. Ramón Aguirre (Mexico) -4
16. Ramon L. Martin (Cuba) -20
DNF Rodolfo Villalobos (Costa Rica)
DNF Brandon Zavala (Puerto Rico)
DNF Pablo Jacob Seisdedos (Chile)
DNF Varun Maharajh (Trinidad and Tobago)
DNF Javier Alvarado (Costa Rica)
DNF Manuel Briceño (Venezuela)
Women Individual Pursuit
Final
1. Marlies Mejias (Cuba)
2. Yudelmis Dominguez (Cuba) DNS
3. Elizabeth Newell (United States)
4. Maria Luisa Calle (Colombia) DNF
5. Jennifer Cesar (Venezuela)
6. Daniely García (Venezuela)
7. Ruth Winder (United States)
8. Alejandra Feszczuk (Argentina)
9. Kirsti Lay (Canada)
10. Emelyn L. Galicia (Guatemala)
Men Team Sprint
Final
1. Venezuela 43.606
Cesar Marcano
Hersony Canelón
Ángel Pulgar
2. Canada 43.922
Joseph Veloce
Stéphane Cossette
Hugo Barrette
3. United States of America 44.756
Nathan Koch
Kevin Mansker
Matthew Baranoski
4. Colombia REL
Ruben Murillo
Fabian Hernando Puerta
Santiago Ramirez
5. Argentina
Leandro Hernan Bottasso
Pablo Javier Perruchoud
Jonathan Matias Gatto
6. Cuba
Alejandro Mainat
Ivan Delis
Luis Alberto Montoya
7. Mexico
Carlos Arturo Carrasco
Jóse Arturo Rodriguez
Edgar Ismael Verdugo
8. Brazil
Flavio Wagner
Caio Moretto
Kacio Fonseca Da Silva
9. Chile
Joaquin Maximil Coñuen Banda
Luis Hernan Velasquez
Jeison Felipe Pastrian
10. Costa Rica
Marco Guillen
Marvin Quesada
Javier Alvarado
11. Dominican Republic
Jonatan Ogando
Alberto Rafael Ramos
Jean Carlos Crispin