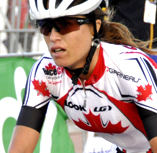 May 04, 2013 (Zacatecas, Mexico) – Canada's Karol-Ann Canuel finished 8th with the same time as the winner as Cuba went 1-2 in the women's 77.4km road race today at the Pan Am Road Championships in Mexico. Arlenis Sierra took the win and teammate Marle Mejias grabbing second over Venezuela's Angie Gonzales in third.
Results
1. Arlenis Sierra (Cuba)                        2:35:13
2. Marle Mejias (Cuba)                         2:35:14
3. Angie Gonzales (Venezuela)
4. Ingrid Drexel (Mexico)
5. Edith Guillen (Costa Rica)
6. Ana Teresa Casas (Mexico)
7. Flavia Oliveira (Brazil)
8. Karol-Ann Canuel (Canada)
9. Marceia Rubiano Caceras (Costa Rica)
10. Fernanda Sousa (Brazil)                  2:35:22
14. Leah Kirchman (Canada)            2:35:45
19. Veronique Fortin  (Canada)        2:42:33
20. Alizee Brien  (Canada)                2:44:17
26. Annie Ewart  (Canada)               2:48:38
DNF Alison Beveridge (Canada)
Full results HERE.