January 08, 2014 – The evening of January 25th will host a fundraising dinner to support the Stevens Racing Program and the Ottawa Velodrome Project. We would like to invite you to come out and enjoy an evening of food, dancing and celebrating cycling to kick off the 2014 season.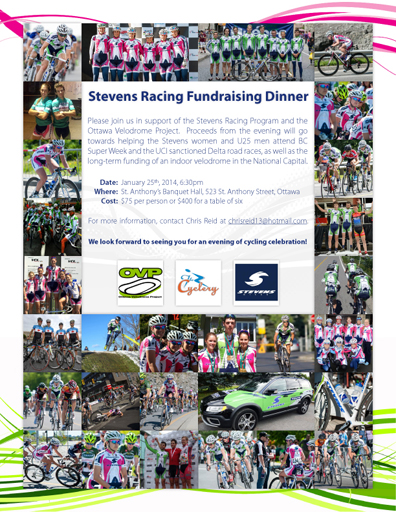 There will be a silent auction of items ranging from signed cycling memorabilia (such as a Catharine Pendrel World Champion Jersey), Massage and Chiropractic treatments, a catered diner party, Sens tickets, and more.
Money from the evening will go towards supporting team riders attending BC Super Week, to give our development riders experience at the next level. Additional funds will go towards the long-term development of a velodrome in Ottawa.
Opportunities such as racing Super Week give riders the sort of valuable learning experiences that make bike riders into bike racers – similarly building a track in the area will provide the community with an amazing learning and training facility- at a perfect time as track racing is gaining momentum across Canada.
The Ottawa Cycling community has proven over the years that despite our harsh winters and short summers to be a hotbed of cycling and cycling talent in Canada, producing numerous Canadian Champions and Canadian Team Members. Initiatives like The Stevens Racing Team and the Ottawa Velodrome Project can't succeed with out the support of a great community like we have here in Ottawa.
Please let us know if you can join us for this celebration of cycling excellence. Tickets are $75 a person or $400 for a table of 6.We look forward to celebrating the Start of the 2014 Cycling Season with you! Please RSVP to
chrisreid13@hotmail.com
.