July 14, 2017 (Toronto, ON) – The Ossington Criterium returns to the streets of Toronto on Saturday, July 22nd. The Ossington BIA, in cooperation with race producers Multisports Canada, are pleased to be putting on what will be an, OSSome day of bike racing.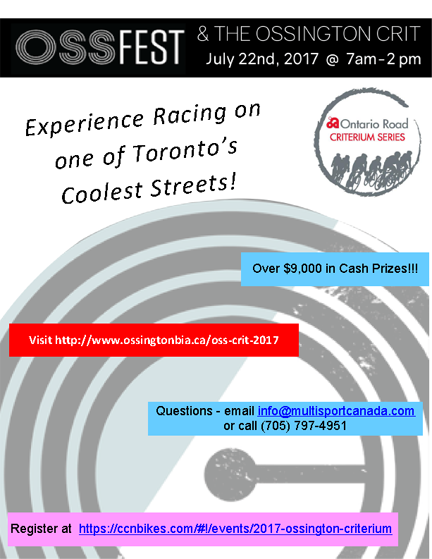 The race route/course will be a rectangular 1K circuit, that racers will do multiple times. For spectators, you can't get any closer to see the excitement and speed of a bike race than at a Criterium – often shortened to simply, "Crit".
There will be categories of races for all levels of cyclists, including a Fixed Gear category. The first race will be at 7:30am, and the featured races, for Elite Women and Elite men starting at 11:35am and 12:30pm  respectively. Awards will be at 2:30pm and then it's time for the amazing Ossington Street Festival.
Come out and race, and/or spectate and cheer the racers on and then stay for the Ossington Street Festival!
It will all be OSSome, at the 2017 Ossington Criterium!
For more info visit here.
For registration visit here.
Technical Guide is here.