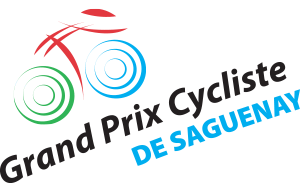 June 09, 2014 (Chicoutimi, QC) – The organizers of the first Grand Prix Cycliste de Saguenay are delighted with the success event, which marked a major shift this year. The race sanctionned 2.2 by the International Cycling Union (UCI) was once a race of the U23 Nations Cup, and the transition between the two types of event was successful, with more than 125 riders from 18 teams from seven countries taking the start of the four day race on Thursday.
"We are extremely pleased with the success of this first edition of the Grand Prix Cycliste de Saguenay," commented Steve Potvin, Chairman of the Board of Directors. All operations were completed without a hitch, and we had the pleasure to witness racing of the highest caliber, with a standout peloton."
The event would not have been possible without the support and contribution of all partners involved, and without the participation of 250 volunteers.
Participating teams, they have enjoyed their first experience in Saguenay. Here are some comments:
Gord Fraser, Directeur sportif for Team Silber Pro Cycling:
"UCI races in north America, let alone Canada, are a great opportunity to showcase a team like Silber Pro Cycling. We are ecstatic and we appreciate the opportunity to race at a high level against great competition, close to home. For our sponsors such as Argon18, for Silber Investments, this is what it's all about. This is the reason we exist. It's to perform at a high-exposure race like this. We are very happy with the inaugural edition, and partnering up with the Tour de Beauce offers two weeks of great racing for teams."
Michael Creed, Directeur sportif of Team SmartStop:
"It's been great. I didn't know much about racing here. Overall, it's tremendous. Of all the races we've done this year, it's one of the best organized. They have been really accommodating. For me, as a first year director, they have gone out of the way to help me with the logistics. The race itself has been really simple, with no transfers and the courses are really dynamic. It's been really good, and it seems like they have the support of the community. I certainly hope it can continue."
Eric Wohlberg, Directeur Sportif of Team Optum p/b Kelly Benefits:
"I think the event has gone really well. The courses have been really good and the criterium on Saturday was very hard, and went right through the heart of Chicoutimi and a lot of spectators came out. Having twilight criterium is always good for the crowds. With the UCI sanction, we knew that the race would be very attractive to any teams coming up. I want to support Canadian cycling."
Cameron Watts, Directeur Sportif for Team Budget Forklifts, racing for the first time in North America.
"Our experience here was really good. We like the courses. It was the first time our boys were racing in North America and we are on a steep learning course with a slightly different style of racing from what we are used to. The boys have adapted well and we came close to a stage win on Saturday. The courses offered a little bit for everyone. The depth of field and quality of racing here is a lot better than in Australia."
More information on the race can be found at www.grandprixcyclistesaguenay.com