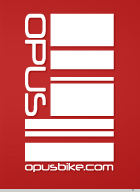 April 02, 2014 (Ville St. Laurent, QC) –  Opus Bicycles, once again competing on the Canadian national mountain bike race circuit in 2014, is pleased to announce that its core group of talented riders is returning to the team. Among them, 2012 U23 National Champion Andréanne Pichette will enter her second year in the Senior Elite ranks, competing at several Canadian National and World Cup events. The Opus squad will also include three-time Quebec Cup Masters Champion Alex Frappier and Steven Noble (U23), who represented Ontario at the Canada Games in 2013. The team has also attracted two new riders in Neil Symington and Felix Burke, who complete the roster.
Given their strong success in 2013, Opus Team Manager Martin Rancourt is confident the squad will continue to build on their strengths in 2014. "Andréanne Pichette enjoyed tremendous results at both the Canadian and World Cup levels in 2013 as an Elite, and we expect that her determination and solid work ethic will continue to power her to the top on the international stage," said Rancourt. "Meanwhile, we anticipate that Steven Noble, who finished third overall in the Ontario Cup series last year, will focus even more sharply on the championship for 2014. All of our riders have been training hard this winter and we're excited to have our family of mountain bike athletes returning for another great season," he added.
The team will be competing aboard Opus' finest competition mountain bike: the Fhast LE is fully redesigned and builds on a proven track record in the highly competitive Canadian mountain bike circuit.
Watch for the 2014 Opus mountain bike race team competing at select World Cup, Canada Cup and provincially sanctioned cross-country events across the country. Or look for them on a training ride in a community near you.
Visit our athlete page here.
For more information about Opus Bicycles please visit here or contact info@opusbike.com.