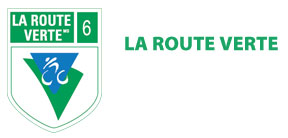 November 25, 2014 (Quebec City, QC) – More voices are speaking out against the announced funding cuts for the maintenance of Quebec's 5358km Route verte cycling network. In recent weeks, the Liberal government announced it was cutting $2.8 million destined for network maintenance, leaving all maintenance costs to fall upon Quebec municipalities.
An open letter addressing to Premier Philippe Couillard was simultaneously published in many of Quebec's French language dailies and signed by 17 prominent people, including many notable names in the Quebec cycling world such as Serge Arsenault, President, Grand Prix Cycliste Quebec and Montreal. This list includes athletes, event organizers, company presidents, the director of Velo Quebec, etc. A translation of the open letter appears below:
Mr. Philippe Couillard, Quebec Premier:
"[Recently], the Quebec government announced it was withdrawing from the maintenance of the Route verte, a responsibility shared equally with municipalities. This financial guarantee from the government, established in 2001, was at the heart of the very existence of the Route verte's integrity and sustainability. This allowed ensuring necessary uniformity in the maintenance of a Quebec-wide cycle network, making it accessible and safe over 5,358km, connected to other provinces and neighboring states. This contributed to making the Route verte a jewel of our tourism industry and position, as recognized by the prestigious National Geographic Society, one of the major international cycle routes.
With the abolition of the maintenance program of the Route verte ($2.8 million /year), this is the beginning of the end of the large network such as we know it; a network that over a thousand partners from all regions have been busy setting up for almost 20 years. This abolition will lead to a loss of income for municipalities, lower maintenance costs on several sections and even the closure of some of them. A lower quality of infrastructure will be less attractive to tourists and more difficult to market. The sustainability of the network, branding and economic impact in the regions are threatened.
Certainly, the Route verte cycling network is beneficial for the health of all and for the economic vitality of the regions, but it is also one of the best social projects that Quebec has been able to implement the last 20 years. Your predecessors, regardless of political party, have even entered the menu of international cooperation agreements during the work of the Conference of Governors of New England and premiers of eastern Canada.
For all these reasons, we ask you to reconsider the decision of your government and reiterate your commitment to the preservation and maintenance of the Route verte, in order to ensure its sustainability."
Signed by:
– Michel Archambault, Emeritus Professor, UQAM
– Serge Arsenault, President, Grand Prix Cycliste Quebec and Montreal
– Lyne Bessette, two-time Olympian
– Françoise Bertrand, President and CEO, Federation of Chambers of Commerce of Quebec
– François-G. Chevrier, President and CEO, ATR associated Quebec
– Raymond Dutil, President, Procycle
– Jean-Marc Eustache, President and CEO, Transat
– Félix Gauthier, President, Cycles Devinci
– Yan Hamel, President, Quebec Association of Tourism Industry and Chairman AML Cruises
– Pierre Lavoie, co-founder, Le Grand Défi Pierre Lavoie
– Lucie Lanteigne, Executive Director, Vélo Québec Association
– Yves Lalumiere, President and CEO, Tourism Montreal
– Michel Slight, former mayor of Hull, co-founder of the Route verte
– Paul MacKenzie, President, Arkel
– Yvan Martineau, TV host and journalist
– Mario Plourde, President and CEO, Cascades Inc.
– Gilbert Rozon, President, Just for Laughs, Commissioner of Montreal 375th anniversary celebrations and of Canada's 150th anniversary celebrations in Montreal