November 25, 2011 (Scarborough, ON) – Come see Team SpiderTech powered by C10 at the SpiderTech PowerWatts Cycling Studio on Saturday, November 26th!  Stop by the new indoor training facility and have the opportunity to speak with your favourite team riders, get an update on the 2012 season from Steve Bauer and see the team's new training facility.
The PowerWatts system is the training system of choice for amateur and pro cyclists.  Developed by exercise physiologist and professional Ironman triathlete Paulo Saldanha, the system has been extremely successful in Montreal and the Toronto facility is now open.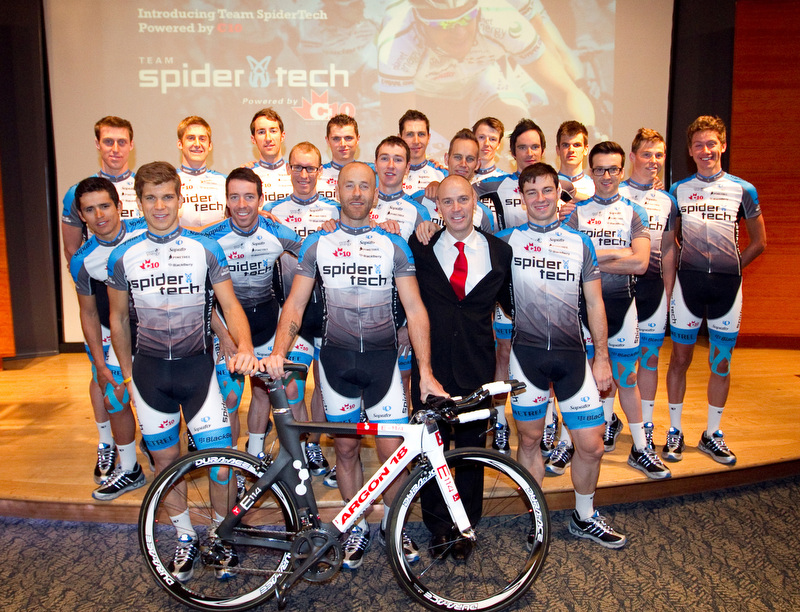 Many of Canada's Olympic athletes from various sports have trained using the PowerWatts system to achieve peak performance. Team SpiderTech p/b C10 will be conducting off-season testing at the facility before heading to Europe in early January.  The SpiderTech PowerWatts cycling studio is also used for testing hockey players and other amateur athletes who are interested in measuring their cycling abilities against professional cyclist standards.
We look forward to seeing you on the 26th. Feel free to share this invitation with anyone you think would be interested in attending.
What
Meet Team SpiderTech p/b C10 at their new training facility, the SpiderTech PowerWatts Cycling Studio.  Come out and meet the team and find out what the riders have been up to in the 'off-season'.
When
Saturday, November 26, 2011
12:00 – 3:00 p.m.
Who
Team SpiderTech p/b C10 & Steve Bauer
Sponsors, partners and supporters of Team SpiderTech p/b C10
Paulo Saldanha, founder of the PowerWatts training system
Cycling and fitness enthusiasts
Where
SpiderTech PowerWatts Cycling Studio
115 Ridgetop Road
Scarborough
(Birchmount and Ellesmere)
NOTE: There is no access to Ridgetop Rd. off Birchmount, access Ridgetop via Rolark Drive (map below)
R.S.V.P and More Information
Augy Marmelo
E: augy.marmelo@spidertech.com
P: 416.452.8382
W: www.teamspidertech.com
W: www.powerwatts.com