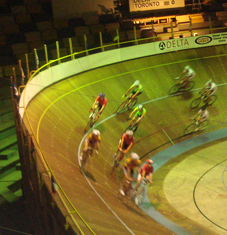 October 01, 2013 (London, ON) – Another great weekend of competition at the Forest City Velodrome as 54 Ontario racers took to the boards of the 138m indoor velodrome in London Ontario.
Ten teams from across Ontario were represented in the racing action. Five Separate events made up the 2013 Track Championships.  There were two events on Friday night (500m/Kilo & Points race). Saturday the Individual Pursuit and Sprint Qualification were held in the morning session, with Pursuit Gold medal round, Sprint rounds and finals and last but certainly not least the Scratch race ended the competition.
The temperature was perfect for the boards and there were a total of 11 FCV track records broken throughout the weekend.
There were many outstanding performances over the weekend, however, the rider who was on top of his game for the entire competition was the Cadet Connor Biway from the Ottawa Bicycle Club.  Biway won ever event, and every sprint heat except 1, when Bayley Simpson took him to a decider in the Cadet Men's Sprint final.
The FCV would like to thank the OCA Officials for their efforts over the weekend, all the FCV parents who chipped in last week to prepare the track for a great championships, all the teams and racers who made the mass start races some of the most entertaining races we have had at the track in many months.
The 3 top teams for the Championships were: Ottawa Bicycle Club, Team CHCH & Invita-FCV
The winter season is right around the corner, the Forest City Velodrome would like to invite everyone to check out our Track 1 schedule and plan to come out to London and check out the boards before spring.
TT-IP-Scratch-Points results here.
Sprint results here.
Lots of photos here.
Follow this link for more information.