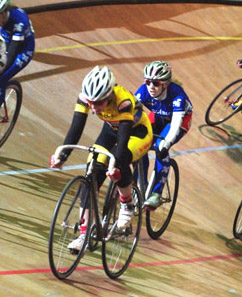 June 27, 2012 (London, ON) – The Ontario Cycling Association and the Forest City Velodrome are pleased to announce that Registration is open for the 2012 event.
The date for the Provincial Chamnpionship is Friday and Saturday August 3rd and 4th.  The FCV will open for warm up and sign in at 4pm, with racing beginning at 6:30pm on Friday August 3rd.
The Provincial Track Championships are an open event with riders invited to attend from outside of Ontario (only Ontario riders can win Provincial medals).  5 Categories (U19 Men & Women, Elite Men & Women, Masters) will contest these Championships in preparation for Track Nationals in September.  Cadets will race up as Juniors.  Based on finishing results Team Ontario will be announced at the conclusion of the Championships.
The opening event on Friday evening will be the very gruelling 500m/Kilo followed by the Points Race for each category.  Saturday morning kicks off at 9am with the Individual Pursuit, Sprints and Scratch races are to be held in the afternoon for all Categories.
Registration can be found HERE.
Good luck to all competitors…. the tech guide will be available shortly on our website.