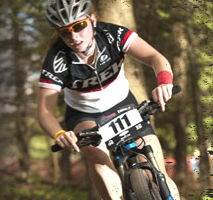 August 15, 2013 (Duntroon, ON) – It's mid-August and we're near the end of the Ontario Cup season. With two events remaining, riders have already been treated to some exciting new venues, and great weather. The additions  of both a Canada Cup in Sudbury, and an Ontario Cup at Sir Sam's Ski and Bike has been a joy for riders across the country.
On August 18, the Series makes it's perennial stop at Highlands Nordic, where the HBCC crew have yet another fantastic course and an awesome, spectator friendly venue. A tough, but rewarding climb and fun fast and technical singletrack are the hallmarks of this great course.  We hope to see everyone out for Ontario Cup #6!
Superfly Racing is excited to present the Ontario Championships at Horseshoe Resort, on September 8. Superfly in conjunction with Horseshoe Resort have been working all spring and summer on a brand new race course, featuring some amazing new machine-built singletrack, some hard climbs, amazing rock features and a 1.5km singletrack decent.
Adding to the flare of this event is an incredible, mountain-like facility and on-site accommodations.  For accommodations email reservations@horseshoeresort.com and mention Ontario Cup for an event discount.  Horseshoe has committed themselves to become one of Ontario's premiere riding destinations, and we're excited to be a part of it!
As our first year at the helm of the Ontario Cup Series, Superfly Racing is delighted at the support shown by the OCA, Pulse Racing, Chico Racing and all our great staff,  volunteers, and riders.  Looking forward to seeing you all at the last two events of the season!
Sean Ruppel,
Superfly Racing