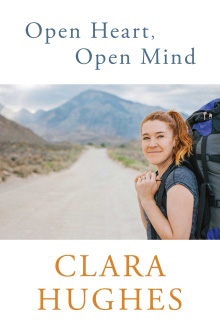 September 06, 2015 (Toronto, ON) – Clara Hughes, renowed Canadian Olympian, the only athlete to win multiple medals in both Summer and Winter Games, has acknowledged a doping infraction early in her international cycling career as detailed in her biography,
Open Heart Open Mind
, to be released on Sept. 8.
Hughes granted her first interview to CBC News that broke the stunning revelation which was kept quiet at the time, but Hughes decided to open up about the 1994 incident and risk potential public reprisal.
According to the CBC report she was told at the time by Pierre Hutsebaut, Canada's national team director, that following the 1994 Road World Championships in Sicily, her sample from the Time Trial had tested positive for the stimulant ephedrine.
Hughes maintains she didn't know what ephedrine was, or how the incident happened, and was given a three-month suspension in the off-season while being advised to keep the matter to herself. She wondered if the positive result was a lab mistake or perhaps an act of sabotage, but despite the risk, felt she had to come clean telling The National's Adrienne Arsenault "To this day, I don't know how that happened. I know I didn't cheat and can look myself in the eye. I have never talked about it. It actually makes me sick because I know I didn't do anything, and it is so empty to say that 21 years later." She didn't feel she had a choice now "… finally being completely honest."
Her memoir also details her struggles with depression, an eating disorder, a troubled family life with an alcoholic, verbally abusive father, difficult and anxious times with her cycling coach and "…her book makes it clear there was so much more going on in her world."
Read the CBC report and interview here.
Clara Hughes Retrospective here.
Cycling Canada reaction here.