July 06, 2011 (Collingwood, ON) – Happy Canada Day from Cycle Solutions, Lapierre, POC and Sirbikealot Racing at Blue Mountain! The weather fairies cooperated once again for us up at Blue Mountain in Collingwood for the 4th Cycle Solutions/Lapierre Downhill and POC Super D of the Ontario Cup Series. It was blue skies and sweltering heat on Saturday, with a bit less humidity but no less clarity on Sunday. What a great preview for the East Coast Open, a DH, Cross-Country and Dual-Slalom race over the August 12 – 14 weekend.
Blue Mountain Resort
Blue Mountain is always a great venue, not only because of its high-end race courses, but also because of the après-race and village lifestyle that it allows. From my vantage point down at registration, I was able to take this in all-day. I kept myself fuelled for my desk job with a Starbucks coffee, lunch at Pita Pit, and apres-pratique dinner at Tholos. Plus, of course, there is always something going on at the stage in the middle of the village. It really doesn't surprise me that this is the event that the whole family often comes out to, not only to watch their favourite racers, but also to enjoy their precious down-time during the short Ontario summer.
Memorable Events
Beyond that, some memorable events from this weekend included seeing LIGHTS play in the centre of the village (free outdoor show!), our second-ever Triple-Crown winner (more on that later), and who could forget Andy Robinson's "Jamaican Bobsled Team" finish as he carried his bike across the finish line. Worth mention was that all-around trail-hand and nice-guy Greg lent his rear brake to Tommy Lucas so he could do his race-run. This is the kind of thing that brings a tear to my eye, and shows what a great sense of community we have in the DH scene.
The Race
As for the race itself, well we admittedly had some delays around the timing. However, as I explained to countless frustrated racers and crew anxious for the results, we were able to pull off the day without a single re-run due to timing error. Big ups to Timer Al and his team for making this happen.
In the female category, Ontario Air Cavalry/Tuf Rack rider Heidi Stiles squeaked ahead of Diane McCullagh for 3rd place. Cycle Solutions/Angry Johnny's Monica Luebke grabbed silver, but still couldn't catch Jennifer Valentine, who appropriately rides for Kamikaze racing.
Master 40+ had series-leader John Danyluk from BikeZone racing take 3rd spot, Adrenaline Racer/Twowheels' Greg Karges in 2nd, and blast-from-the-past Dave Drenth taking top category honors. This cat was randomly selected as the X-Fusion Shock class for DH #4, meaning that Dave got to take home a brand new shock for his win!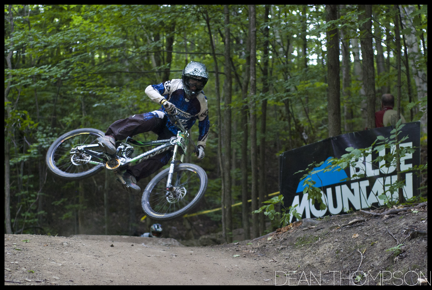 Junior Ex had Jordan Whicher in 5
th
, Bryce Kiberd in 4
th
, and AdrenalineRacer/Team Twowheels rider Craig Thompson in 3
rd
.
Pro, as always, was where you could hear a hush come over the crowd at the base of the hill. When the famous Blue Mountain dust settled, Steven Gauci and Jeff Faulds took 5th and 4th respectively. The precious metal medals went to Adrenaline Racer/Twowheels/Reactivated Racing's Brad Zdriluk in 3rd, and a half-second later was Primary/SRAM/Trek's James Frost in 2nd. In first, with a 3-second gap, was Michael Hermanovsky, our second-ever Triple Crown winner. Mike won not only the pro cat, but also the hardtail 19+ cat, and the under-30 Super D the day before. Notably, the first rider to do this was his teammate Jeff Faulds in 2010 at Sir Sams. In my mind, this solidifies his Silent Norco Racing team as one of the most athletically fit teams on the circuit.
Be sure to check out Sirbikealot Racing on facebook for all the updates or hit us up oldschool HERE. Many thanks to Cycle Solutions, Lapierre, Tuf Rack, Norco, POC, Red Rain, Lee, Al, Greg, Nicky, Dina and all the volunteers, first aid and marshalls! See you at Camp Fortune July 31 for DH #5.