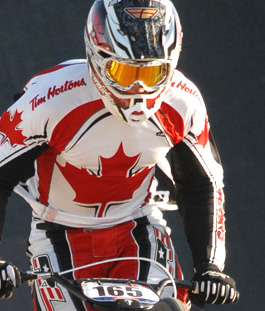 August 31, 2012 (Abbotsford, BC) – The 2012 Canadian BMX Championships opened today after exciting time trial at the newly improved track at the Abbotsford BMX Club in Abbotsford, British Colombia.
With significant improvements made over the summer on the track, today riders in the Elite and Junior categories attacked the straights and banks with speed – and lots of it.
Olympian Tory Nyhaug (Cycling BC /Redline Bicycle) took the men's title, posting a time of 31.48s in the SuperFinals to win his third straight Elite titles since turning Elite last season. At last year's Championships, Nyhaug swept both the Time Trial and BMX titles.
The 2012 Olympian, who came back from a major surgery that saw his spleen removed a few months ago, was obviously pleased with the results.
"I got some good clean laps today. I made a few mistakes, but it's all good and happy to come home with the jersey. It's a little weird but cool to see all the banners and parents out. We usually come here a no one is here. It's definitely cool to have the Canadian Championships in my backyard and especially the World Cup (Sep 13-15) It's going to be great," said Nyhaug, who represented Canada at the 2012 Olympic Games.
"Overall, the experience in London was very positive. I did everything I could do within the timeframe that we had. Even though it didn't work out the way I wanted, I was really happy on how everything went. I got some good training at home since then, and today I won the jersey."
Nyhaug, Canada's best ranked rider on the UCI BMX SuperCross tour, qualified with the best time to race the SuperFinals. The Top 4 riders of the Elite Men advanced to the evening SuperFinals.
National team member Connor McCormack (Cycling BC) posted the second fastest time of 31.87s for the silver medal, while Derek Spiko (Dkoi Bikes/War Clothing) came third with a time of 34.04s to round up the podium.
In the women's front, Sabrina Millman (Staats Bicycle) also extended her winning streak to three. Millman won both titles in the previous edition of the event, and is establishing herself as a force in women's BMX in Canada.
Millman sped to the solo victory by posting a time of 37.07s, after qualifying with the fastest time. The victory by Millman is sweeter, since she is still in recovery mode after twice breaking her hand.
"I feel very good. I didn't really prepare. I hurt my hand in the practice earlier this week. I broke my wrist twice this last year, and then my hand before Worlds. It still hurts. I am just pushing through it. I am very nervous about tomorrow's BMX races. I'll give my all"
Amelia Walsh (Team Ontario) took the second place and silver medal stopping the clock at 38.42s, while Sarah Biron (Équipe du Québec) grabbed bronze with 40.89s.
In the junior races, James Palmer (Cycling BC / Yess Bikes) rode away with the victory in the Men's category, while Chelsea Kingston (Team GHP) took the title in the women's category.
Racing continues tomorrow for all racing categories. Over 200 cyclists of all ages will be racing for the ultimate Canadian BMX honor, the coveted Maple Leaf jersey awarded to the Canadian Champion.
Results
Junior Men
1. James Palmer  33.48s
2. Corey Walsh  34.43s
3. Brandon Reid  35.68s
Junior Women
1. Chelsea Kingston 38.28
2. Morgan McAdam 39.28
3. Elaine McAdam 39.52
Elite Men
1. Tory Nyhaug  31.48s
2. Connor McCormack  31.87s
3. Derek Sipkoi 34.04s
Elite Women
1. Sabrina Millman  37.07s
2. Amelia Walsh  38.42s
3. Sarah Biron  40.89s
Full results HERE.