May 29, 2013 (Nove Mesto, Czech Republic) – Following the stellar Canuck weekend in Nova Mesto at round #2 of the UCI MTB World Cup we caught up with Catharine Pendrel (Luna Pro Team), Max Plaxton (ShoAir-Cannondale) and Geoff Kabush (Scott-3Rox Racing) for their take on their races and what lies ahead…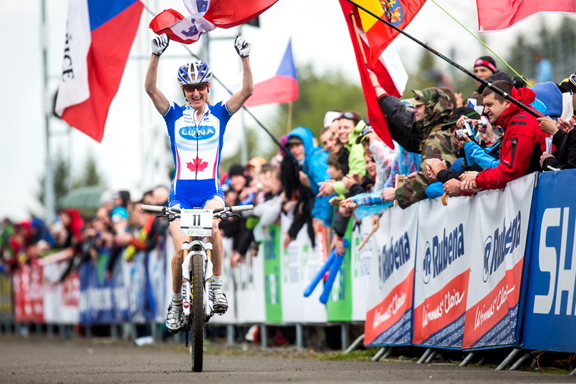 Catharine Pendrel (Luna Pro) – 3rd

How did the race play out for you?
CP: Great. I planned to set a hard pace from the start and was able to do that. When Tanja [Zakelj] attacked on lap four of five it took a little time to regroup and get back on pace, but otherwise I'm happy with the ride. A couple more weeks of fine tuning and I'll be aiming for the top step again.
Does this give you more confidence now leading into the next rounds of the WC?
CP: Yes. I wasn't really sure where I would be at that first World cup, but knew the only thing that really held me back in Albstadt, Germany was not believing and therefore not riding to finish on the podium. Glad I sorted that out for Nove Mesto!
What is next on the schedule for you?
CP: Ten days at home and then back to Italy… although I'm sure there will be a road trip to some fun trails during those 10 days – and apparently some garden weeding.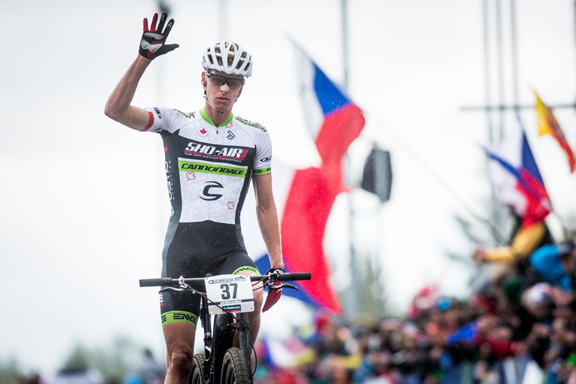 Max Plaxton (ShoAir-Cannondale) – 5th

This is your best World Cup result in Europe, how does it feel?
MP: The result feels good and happy with the last two races. There are still four places higher up that I'd ultimately like to be but considering my off season and everything, it feels great. The last five World Cups I've done have all been top-10 so that's pretty satisfying.
Can you tell us how your race went?
MP: My race went pretty well and my goal was top-5. I wanted to have a bit better of a start lap and not lose 30 seconds or whatever it was to the leaders, but I just picked off as many guys as I could and ended up in 5th at the finish.
You had a good start, but still back a couple of rows…what was your strategy to move up in the field?
MP: It's about being smart and making each pass count. One of my strong suits is the technical sections so I tried to pass whenever I could going in to those sections. You feel good and you just try to finish as high as possible without overdoing it. It's frustrating in the first couple laps having to get off the bike and run some sections when you know the top-10 or so are just riding it without losing time. The day that I can start on the first or second row I believe I can ride with the top guys.
How did your Scalpel perform?
MP: My Scalpel was amazing, it's such a bad ass looking bike too. Definitely made the right choice. I'm really lucky to be able to choose between the F29 hardtail and Scalpel 29R.
What is next for you?
MP: A few weeks at home for a bit of rest, then we ramp up the training again and we're off to Italy for round 3.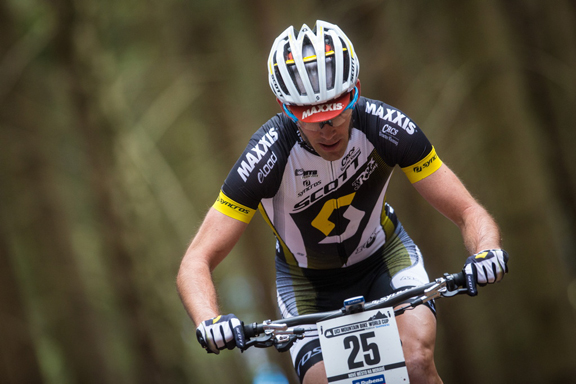 Geoff Kabush (Scott-3Rox Racing) – 7th

You raced well in Nova Mesto, tell us about your race?
GK: Nove Mesto was definitely one of my best European World Cups and it felt great to be in the fight. My goal was to be aggressive as I could at the start, go for it like Pre, but I suffered trying to make it through the traffic smoothly. After the first lap I tried to bridge gaps and leapfrog forward as quick as I could and my Spark 900 really helped. The course and venue is amazing and it was really fun to be able to push on my limit both uphill and downhill in front of the crowds.
That was an exciting finish as you battled with Cink for 6th – did you expect to finish so strong?
GK: I was really pleased how fast I was able to finish after pushing hard early on and it definitely left me wondering where I would have been with a better start. Great to see another impressive ride from mid-pack by Max as well. Hopefully all the Canadians can continue to move up the start grid and remove more of the start loop luck from the equation. One of the major issues we need to resolve is having Canada Cups conflict with World Cups as UCI points are even more critical with the change in call-up protocol.
What's up for you going forward?
GK: Next up, good question, no Val di Sole. I'm back in Toronto and figuring out plans for June. Probably head West at some point for some fun events and business with Catalyst Kinetics. Then the Montana Pro XCT and Sun Valley Super Enduro will round out the month.