October 27, 2015 – On behalf of the Canadian Cyclo-cross Working Group, a big thank you to everyone who attended the town hall meeting on Sunday, Oct. 25, at the end of the Canadian championship weekend. There was a very positive spirit of collaboration at the meeting, which was a very positive way to cap the event off. As promised, here are the notes from the meeting. If anyone has something to add, please contact Kris Westwood at kris.westwood@cyclingcanada.ca.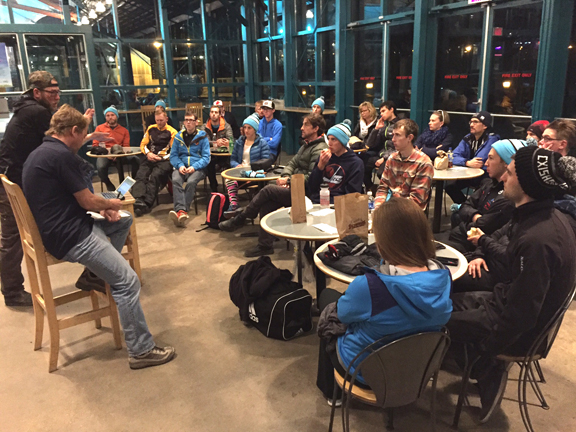 Town Hall Meeting Notes
Kris Westwood intro
Scott Kelly explains World Championships project history and why working group was formed
Criteria is described (posted online)
Outlines program including Christmas Cross campaign and World Cups/Champs campaign
Total cost estimated at $20,000 per project not including athlete airfares (all staff volunteering their time)
Cost estimated around $1,500-$1,600 per rider per project
Goal is to secure $20,000 in funding to make $1,500/rider for both campaigns possible
Provinces, pro teams, sponsors all potential sources of funding
Aaron Schooler: important to note that any donations can be tax deducted
USA Cycling uses a similar model (donation-funded) to run a full world-cup campaign in Europe and has had success
Question: What are dates for Christmas Cross campaign?
Scott: Dates haven't yet been finalized. People encouraged to join Mailchimp mailing list
Aim to start on the 26th, so people should expect to be there on the 23rd. Last race on 3rd, fly home on 4th
Intention to aim mostly towards U23 athletes, who will be able to stay afterwards to complete a training block prior to world cups/champs
Question: Aaron Schooler – Is the $1,500/athlete cost goal a realistic estimate?
Scott Kelly: In the past, the $20,000 price tag has been fairly consistent – cost per person may go down with more athletes, although we don't want to stretch staff resources too far
Kris Westwood: reminder that $1,500 does not include airfare
Question: Barry Lyster – clarity on criteria: If you're top 3 at Nationals, you have automatically qualified?
Scott Kelly: Yes – goal of criteria was to make it as objective as possible
Barry Lyster is exploring the idea of creating a similar high performance committee/program in BC
Barry Lyster: National Calendar could be developed to include more UCI races or Eastern/Western Championships for development
Question: David Gagnon – If a rider qualifies and their trade team pays for them to go, do they have to pay the fee?
Scott Kelly: If all riders are able to pay into the program, it will help reduce costs as a whole
Scott: All riders attending will be expected to pay into the program
Question: Maghalie Rochette – Do medals or success at world championships help to obtain more funding to Cycling Canada from Sport Canada?
Scott: No – primary funding will need to come from sponsors/partners/donations
Kris: Does not work as CX is not an Olympic sport
Mical Dyck: If there is a track hopeful in the CX program, is it possible for funding to transfer over?
Kris: Not likely possible – funding allocated specifically to the discipline in question
David Gagnon – more outward emphasis should be made that donations can be tax deducted.
Aaron Schooler – donations can be made to Cycling Canada with specific request that it be allocated to Cyclocross
Kris: two limitations: can't be in exchange for advertising, and can't be earmarked for a specific athlete
Scott Kelly: If anyone is eligible in attending one or both of the projects, immediate interest should be expressed to Cycling Canada to help with logistics
Scott Kelly: if anyone knows of potential funding partners, they are asked to reach out and make introductions
Question: Would it be possible to add more UCI races to the calendar?
Scott Kelly: Is very hard to host a UCI race – heavy resources on organizers
Josh Peacock: Absolutely possible, interested organizers are encouraged to contact CC
Steve Scoles: Eastern/Western Championships would be a good idea as a build up to Nationals
Josh Peacock: Cycling Canada always open to adding more UCI CX events onto the calendar
Josh Peacock: Any interested organizers are always encouraged to contact CC about hosting an event – information regarding application process and financial obligations are located on the CC website
General consensus that more UCI events would be desirable in Canada
Economic impact studies of these events would be a great tool to build the caliber of events in the country
Chris Huebner: We did not do an economic study because of cost (ca. $5,000), but we'd consider doing one if requested.
Question: can we use the high standard of the Winnipeg event to raise the standards for Canadian CX events overall?
Chris Huebner: the basic standards on the website are a good start
If we had been given the standards at the level we ended up delivering, we would probably not have decided to organize the event
Mical Dyck: Declaration of intent form for athletes wishing to do the CX projects is available on CC website
Barry Lyster: Question regarding calendar for riders who only want to go for World Champs – clarifying that World Cup weekend before would be included
Scott Kelly: For those attending projects – email will be sent ahead of time outlining equipment, etc. that would be needed
As mentioned in the meeting, Cycling Canada can issue tax receipts for donations greater than $25, and the donor can specify which project or program their gift should support. For more information, see the Charitable Gifting Policy here.
Please feel free to share this with anyone interested in cyclo-cross. People interested in being on this mailing list can sign up here
The Canadian cyclo-cross program document can be found here
If you have any questions about the program, please contact Program Manager Scott Kelly at scott@dundasspeedshop.com
About the Canadian Cyclo-Cross Working Group:
The Canadian-Cyclo-cross Working Group is made up of various stakeholders from the Canadian Cyclo-cross community. The objective of this new initiative is to improve communications and planning around the Canadian Cyclo-cross program. The working group has been tasked with developing a sustainable cyclo-cross program, exploring funding opportunities and identifying and engaging leaders in the Canadian Cyclo-cross community to help drive these initiatives.
Working Group members:
Program Manager: Scott Kelly
NSO Rep: Kris Westwood
PSO Rep: Jayson Gillespie
Elite Female Rep: Mical Dyck
Elite Male Rep: Aaron Schooler
Industry Rep: Craig Richey
Member at Large: Maghalie Rochette