November 22, 2011 (Toronto, ON) – Norco is excited to announce the launch of its first Toronto partnership store, Cyclepath Yonge and Eglinton. A new brand initiative to provide a complete cycling experience to consumers, the new store will highlight the Norco Bicycles line, proprietary brands like Axiom and Adams Trail-A-Bike and Norco's many distributed brand offerings such as Ridley bikes in a central Toronto location.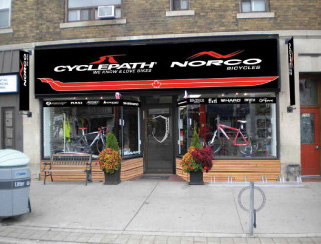 Norco partnership stores offer a one-of-a-kind opportunity for dealers to provide an incredibly robust product offering from Canada's largest bicycle manufacturer and cycling distributor. Mike Wilson, owner of Cyclepath Yonge & Eglinton, sees the collaboration as a big advantage for his customers: "Along with our passionate, knowledgeable people, we are very excited about the additional value and service we will bring to our community going forward."
The new face of Cyclepath Yonge & Eglinton will bring a unique product and branding story to the Toronto core. "This alliance represents a step forward in providing exciting retail experiences for consumers. This dynamic pairing combines the retail expertise and culture of the team at Cyclepath Yonge & Eglinton with our extensive product offering and support," said Paul Nielsen, Norco's National Sales Manager.
The introduction of specialty partnership stores continues to build on Norco's long-standing support of IBD (Independent Bike Dealer) growth. After recently announcing the introduction of Norco Sync and Norco Fulfillment – programs that allow dealers to expand their product offerings to consumers and increase profitability – partnership stores represent the next level in evolution.
The benefits of these comprehensive programs come from the "tremendous depth and breadth of inventory due to the full lineup of Norco Bicycles and one of the largest parts and accessories programs available in Canada," according to Mike. He continued by saying, "it allows IBDs to have access to new online retail technologies to assist with inventory control and more convenient online purchasing for our customers."
In an extremely competitive environment, these initiatives will continue to fuel the growth of both Norco and its partners. "We are extending the partnership program opportunities to retailers across North America. There is a bright future for the cycling industry and working with IBDs we see ourselves moving forward together – it is an exciting time," added Paul.