March 29, 2016 – Cycling Canada's men's track endurance program continues to progress and will compete in 2016 as Team RaceClean. The NextGen MTE program was launched two years ago with the goal of being medal contenders in the men's team pursuit at the 2020 Olympic Games in Tokyo. The team remains firmly on target to achieve that goal after the 2015-16 track season that included a top-10 World Cup result and a 12th-place finish at the UCI Track World Championships.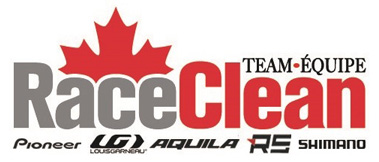 The foundation for this success has been in selecting an MTE group that trains and competes together throughout the year. For 2016, the program is stepping up to the next level by bringing together 10 riders to train and compete as a Cycling Canada trade team for the entire season.
The team will race under the banner of Cycling Canada's RaceClean anti-doping program. The 10 young riders and staff strongly believe in the importance of fair play, clean sport, and the obligation racers have to compete within the rules.
"The objective stays the same: To develop our Track Endurance program to be competitive at the 2020 Tokyo Olympics; that's a given," said Jacques Landry, Cycling Canada's High Performance Director. "But along the way, if we can develop a rider to be placed on a World Tour or a Professional Continental trade team, we will be happy to let him go. We are also very happy these 10 young riders will develop and advertise a philosophy close to the heart of our organization."
The team is kicking off its 2016 campaign with a 10-week road block in Europe, starting with a training camp in the south of Spain before moving to Cycling Canada's base in Belgium for the competition phase. This is a similar program to other successful team pursuit nations including Australia and Great Britain.
"It was very important for us to create a team to enable our riders to enter more races in Europe especially," said Cycling Canada's road development coach, Luc Arseneau. "We now have more than 90 days of racing planned over the next few months. To be honest, it's been a long-time dream."
Team RaceClean, along with director Arseneau and physiologist Emily Wood will start the season on April 3, racing the Inter-Club Scheldeprijs. After this season opener, they will stay in Europe to attend the UCI Nations Cups, followed by a string of stage races. Team RaceClean will then travel to Canada to make its first appearance on Canadian soil, the Grand Prix Cycliste de Saguenay (UCI 2.2).
After some rest and racing the Global Relay Canadian Championships, Team RaceClean will head back to Europe for some high level Belgium races such as the Tour de Liège and the Tour de Namur. Depending on the development of the new UCI Track Calendar, further races will be announced on the team's calendar.
This program would not be possible without funding and support from the private sector.
"On the equipment side, the team will be well equipped with Canadian made Aquila bikes, RealSpeed wheels, Shimano components, as well as Pioneer power meters," said Cycling Canada NextGen MTE coach Ian Melvin. "Louis Garneau will ensure the team's clothing is as fast and aerodynamic as possible. Private donations were made to the program to complete the budget.  Several Toronto-based attendee's at the 2015 Tour de Bleu created an Aeroplan Beyond Miles account and donated points to enable us to save a significant amount of money on flights. Many people are backing this program, and we thank everyone for their support."
TEAM RACECLEAN
– Willem BOERSMA – Portage La Prairie, Manitoba
– Evan BURTNIK – Edmonton, Alberta
– Aidan CAVES – Vancouver, British Columbia
– Alexander COWAN – Calgary, Alberta
– William ELLIOTT – Barrie, Ontario
– Adam JAMIESON – Barrie, Ontario
– Jay LAMOUREUX – Victoria, British Columbia
– Sean MACKINNON – Hamilton, Ontario
– Bayley SIMPSON – Lindsay, Ontario
– Edward WALSH – Halifax, Nova Scotia
COACHES/STAFF
– Luc ARSENEAU – National Road Development Coach
– Ian MELVIN – NextGen MTE Coach
– Emily WOOD – Physiologist
SPONSORS
– Aquila Bikes
– Louis Garneau
– Pioneer Cyclesports Power Meters
– Real Speed Cycling wheels
– Shimano
SPRING PROGRAM
– Scheldeprijs, BEL – 1.IC
– Tour of Flanders, BEL – 1.NCup
– ZLM Tour, NED – 2.NCup
– GP Affligem, BEL – 1.IC
– Eschborn-Frankfurt, GER – 1.2U
– Flèche du Sud, LUX – 2.2
– Paris-Arras, FRA – 2.2
– Tour de la Manche, FRA – 2.Nat
– Grand Prix Cycliste de Saguenay, CAN – 2.2