March 27, 2015 – It is with great pleasure that I am able to introduce the clothing design for the inaugural year of the iWill Pro Cycling Team. The clothing design was created by the incredibly talented Jonathan Wood based in Vancouver, BC and will be made by Louis Garneau.
For those who are able, or interested in supporting the team or the iWill Helmet Awareness Campaign, we are selling our team clothing and custom printed team iWill stickers for the bikes and helmets.  Please go to the GoFundMe link provided below to order your kit, and donate!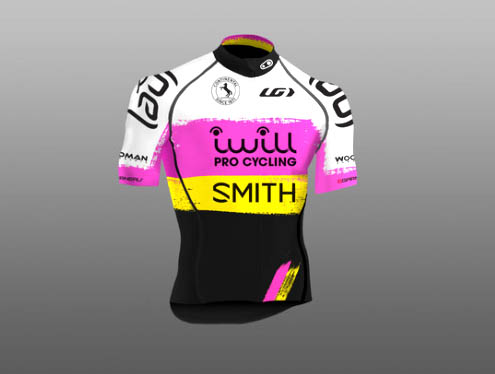 A portion of the sales from the clothing will go towards the team, and a portion of all money raised along with prize money earned throughout the season will be used towards the iWill Helmet Awareness Campaign. For all information on the clothing and the sizing, please visit the GoFundMe page here to find out more.
One program that the !Will Pro Cycling team is working on as a way to give back is called the Racer Crash Replacement Program, where athletes who have crashed their helmet and are in need of a new one but might be strapped for cash, can contact us with their story and some photos, and we will do our best to replace the broken helmet free of charge.  This keeps the athlete safe, and able to ride, while promoting safe practice in sport.  Please check back on our blog later for more information on this program.
The team is primarily a MTB team which will also race some CX and is based in Tübingen, Germany and is benefiting the iWill Helmet Awareness Campaign in memory of Will Schooler who passed away from a brain injury sustained while urban skiing in 2011 and was not wearing his helmet at the time.  On the team is Canadian Pro Cyclocrosser Aaron Schooler, who will be shepherding two U23 Young Guns on the ins and outs of racing at the top level of the sport, Basti Bopp, and Lukas Haderlein, who are both from the Tübingen area. I would like to thank our long list of sponsors and marketing partners for helping us create this first year team, and giving us a platform to promote such a valuable cause.
Note: The clothing order will be completed on Monday March 30th, so please get your orders in before then! Clothing will arrive approximately in late May.
Thanks to:
iWill Helmet Awareness Campaign, Smith Optics, Lauf Forks, Woodman Components, Tantrum Energy Drink, Continental Tire, Jagwire, Tune, Crankbrothers, Koch Winery, Modern Athletes Clothing, Pyramid Training Systems, Lizard Skins, WickWerks Chainrings, Jonathan Wood Design, Louis Garneau Clothing.
For more info please click here.