February 02, 2016 (Gatineau, QC) – After an outstanding first season in 2015 as Santé Universelle / Marin Bikes, the Gatineau team is thrilled to announce its new partnerships with Quebec sportswear and bicycles manufacturer, Apogee Sports and North America's best source for low cost mortgages, insurance, and credit cards; Lowest Rates.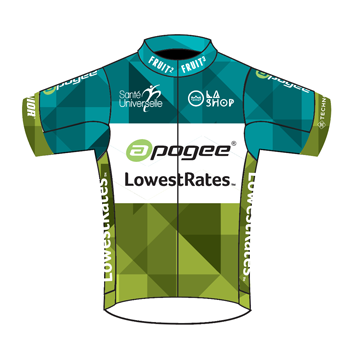 Apogée Sports, well known for its speed skating and skiing apparel, recently expanded to produce top of the line bicycles. Frederick Gates, director of Cyclisme Outaouais and manager of Apogée Sports / Lowest Rates elite team, said the riders were impressed with the quality of the bicycles, which they saw for the first time late last week.
The team has also signed a two year deal with Lowest Rates. They are owned by Cypher System Group from Windsor, ON. Lowest Rates compare offers from leading mortgage lender, leading car, life, and travel insurance providers and also compares offers from leading credit card providers thru their lowestrates.ca and lowestrates.com web sites.
Santé Universelle, Centre du Vélo La Shop and Brasseurs de L'Outaouais, Xact Nutrition, Techno Cycle and UNIOR Tools will continue their association with the team.
Gates emphasizes that they have been important partners since the beginning of the team's journey. Other partnerships will be added in the coming weeks.
The ten-rider squad of the Apogée Sports / Lowest Rates cycling team officially began their season in Tennessee in April. They will participate in the team's training camp, followed by two races in the Nashville area.  "We had a really positive experience last year. The cycling community around Nashville is exceptional. They sure bring the expression "southern hospitality" to reality," Gates commented.
The major team objectives include the Canadian Road Cycling Championships, held on home turf in Ottawa and Gatineau in late June; the Saguenay Grand Prix, the Tour de Beauce UCI races and various Quebec, national, and US events.
Cyclisme Outaouais has also invested in Gatineau's future of cycling by establishing a local developmental team.  Details on the team members and sponsorship of this team will be announced in the coming weeks.
The team is excited to begin its 2016 season.  "Our riders are highly motivated. The guys living outside of the region will be making housing arrangements in Gatineau to be ready to join their teammates once the school year is over," said Frédérick Gates.
APOGEE SPORTS / LOWEST RATES TEAM 2016
Jean-Sébastien Perron, 30, Gatineau (QC)
Benjamin Andrew, 23, Gatineau (QC)
Robert Hargrove, 30, Gatineau (QC)
Emmanuel Gagné, 20, Montreal (QC)
Cameron McPhaden, 23, Saint-Lazare (QC)
Adam Roberge, 18, Prévost (QC)
Jean-François Soucy, 19, Amos (QC)
Gabriel Jean Dumais, 20, Alma (QC)
Simon Ouellet, 18, Alma, (QC)
Tyler D'Arcy, 21, Truro (NS)