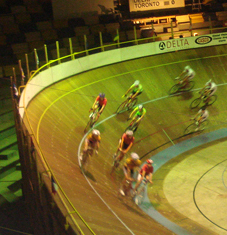 March 25, 2014 – The Ontario Cycling Association and the Forest City Velodrome are please to announce a new Junior Stage race on the Ontario Cycling Calendar for 2014.  The event will be have racing for both men and women.
The "yet to be named" Junior Stage race will feature, 6 stages…. 2 – Individual Time Trials, 2 – timed sprint style circuit races and 2 – 90 minute Criterium/Road Races over 2 days. Riders will be able to Register for the Race in April at the OCA event registration link.
Entry fees for all stages will be $50.00.  The Prize Purse based on 100 entries is a minimum of $2,000.
The Junior Stage Race will be part of the London Youth Cup Doubleheader on Saturday June 14th (Delaware Speedway) and Sunday June 15th (Tourism London Youth Grand Prix) in London Ontario.
Out of Province Cadet/Junior racers must have a valid 2014 UCI Race License to compete.
More information and Tech Guides will be released shortly, you will be able to book the Travelodge Hotel on Exeter Road in London for $60,00 per night (includes Breakfast)…. Just say you are with the Velodrome. Reserve today (519) 681-1200.