November 17, 2014 (Montreal, QC) – Kinex Cycling Shoes is a new Canadian company based in Montreal that claims to increase foot-to-pedal power transfer from 5-25% by stabilizing and employing three anatomical structures: Forefoot-Sole-Heel to create a custom fit "Power Triangle" and increase energy transfer.
The Kinex team brings together former top Canadian athletes such as Olympic medal winning downhill skier Steve Podborski and speed skater Mathieu Turcotte along with former pro triathlete Paulo Saldanha of Powerwatts fame. They are joined by Sonya Matthews with 20 years experience optimizing footwear performance for world-class athletes and Blaine Hoshizaki (the director of the U. of Ottawa's Neurotrama Impact Science Lab). Kinex President and CEO, Michel Chiasson, has 20 years experience launching innovative products with Nike-Bauer, adidas-Salomon and Itech.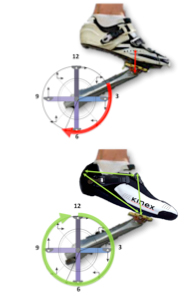 Kinex likens the revolution of the pedal stroke to a 12-hour clock suggesting that conventional shoes only perform efficiently in the vertical vector between 2:30 and 6:30 (33%). While 2-foot technique helps with the rest of the revolution it's inefficient according to Kinex which claims to effectively transfer foot energy through all 4 vectors (100%) in the 12-hour (360 degree) pedal stroke.
This leads to a 5-25% increase in peak force transfer, impulse, and average wattage under mid-high resistance conditions. There are also benefits in time to peak wattage, time to peak force, acceleration, reduced muscle fatigue, and reduced lactic build up.
Currently available only as a custom designed high performance cycling shoe, they have been tested by top athletes such as Simon Lambert-Lemay and Tory Nyhaug, and sport a hefty price tag at around $2,500/pair.
Kinex Cycling Shoes are available through Powerwatts in Montreal and will be at all 11 franchises across Canada in the near future. Kinex also plans to introduce more products in their line up with an expanded distribution network down the road.
Kinex FAQ Sheet here (PDF).
Visit the Kinex website here.
Visit Powerwatts website here.