November 10, 2011 (Winnipeg, MB) – Pedal
caught up with three-time Canadian ITT Champion in the women's 40+ category, Nettie Neudorf, at the Canadian Cycling Association's AGM in Winnipeg. Read her story of how she became an avid cyclists at 40 and then went on to win four National Championship medals and three jerseys, is an inspiration.
My cycling started on a real bike after a charity ride in which I was persuaded by friends to participate in. I apparently needed a "real" bike, as my good friend and now cycling buddy put it to me after I came in to the finish area as the first female finisher. Not that it was a race, but while the initial challenge for me that day was to ride the 1,100 ft climbing elevation course, it turned into a competitive ride for me as I passed cyclists along the route.
Here at 40 years of age, I had no idea what impact competitive cycling would have on my life. Once the "real" road bike arrived, I started riding regularly with people faster than me. According to my coach, that's the kind of rides you want to train in. I could not believe the demand it placed on my body to even keep up with the boys, but I was determined not to give up. And it was – and still is – my determination to achieve the impossible.
In the next couple of years that followed, I participated in the local bike races and a couple of the provincial races; getting to know the incredible people who are in it for the sport and the friendship. The local bike shop, "Two Tired Boys" became a regular hangout. One winter evening in 2008, I contemplated racing at the 2009 Canadian Nationals in Quebec. My cycling buddy was just as thrilled and joined in the commitment and participation. I was starving for any information that would help me become my best for that event. My family joined us as our support crew (behind the scenes) and witnessed my Silver Medal win in the ITT, Masters Women 40+ category. What a thrill! To this day, the experience of that win and the rides in Quebec were my way of capturing what it must be like to be in Tour de France.
To celebrate the great season gone by that year, I held a party at my house with fellow cyclists and the cycling coach for Manitoba. I found it an honour for him to be at a "rookie" cyclist's party and discuss my future in racing. After a few weeks of consideration, Jayson Gillespie took on the task of coaching me to the incredible goal of winning gold at the Nationals the following year.
Teaching an old dog new tricks was about the same sort of challenge for me to learn and take on the training regime and racing commitments. Working in an office by day and riding/racing by evening became my lifestyle very quickly. Having a coach who knows your performance, areas for improvement and understands a trainee's way of thinking is priceless. The mental coaching is key in overcoming the battles between the mind and body. I would not have been as prepared as I was for the 2010 Nationals had I not had Jayson's coaching.
So with my family and cycling buddy as my support crew again (behind the scenes), and Jayson there at the 2010 Nationals, another unforgettable achievement was accomplished. My win in the ITT, road race and silver at the criterium were mind boggling to this 44-year-old who learned how to really ride a bike just a few years before that. My coach believed in me at the start and saw me through to attain the prize of my goal that was set just 6 months before that. That took my cycling to a whole new level beyond the charity rides!
My goal for 2011 was to widen the margin of the win in the ITT at the next Nationals. And despite the illnesses, injuries and doubts along the way in that training season, it was my determination that put my every ounce of desire and effort into the 21 km race for the best time. The support and encouragement from my family and coach were the best elements for success. Just as I was ready to start my race, I noticed the note Coach Jayson had taped to my bike. "I'm the Champ". "Yeah" I thought, "I want that to happen".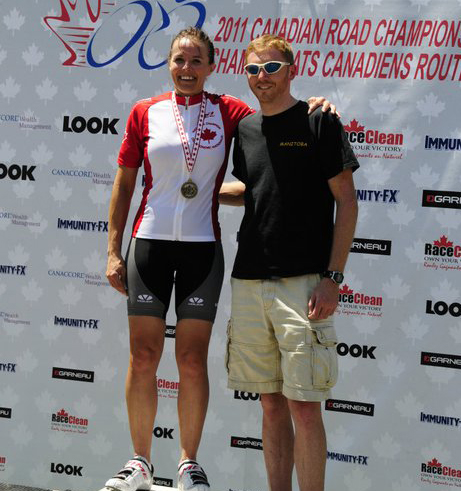 Jayson asked me after I just finished my ride, if I wanted to hear the "Good news or Bad news" first.  I responded, "the Good news". " You won".  After my victory squeal, I asked him what the bad news was. "There isn't any, I just wanted to know which one you'd pick."
My winning time was the fastest in the day in all masters women categories, along with a 40 second gap from the silver medalist in my category. I proudly stepped on the podium to take my championship jersey and gold medal with pride. That glorious feeling does not diminish the 2nd time around.
I now have 3 National Championship jerseys on my bragging mantel to cherish. However, it's the memories of the hard work, counselling from my coach and support from family, friends and Two Tired Boys Bike Shop that are the real prize. There is no age limit to achieving almost ridiculous goals as long as you are determined enough to realize them.