March 15, 2016 (Hamilton, ON) – The National Cycling Centre Hamilton racing as Team NCCH pb DEC Express had great success recently at the Provincial Track Cycling Championship's held at the Pan Am Games Velodrome in Milton ON. The Team of 27 riders ranging in age from 14 through to 45 won 10 Gold, 11 Silver, and 12 Bronze for a total of 33 medals during the 3 days of competition. All the events were live streamed by "ARROND for Cyclists" through YouTube.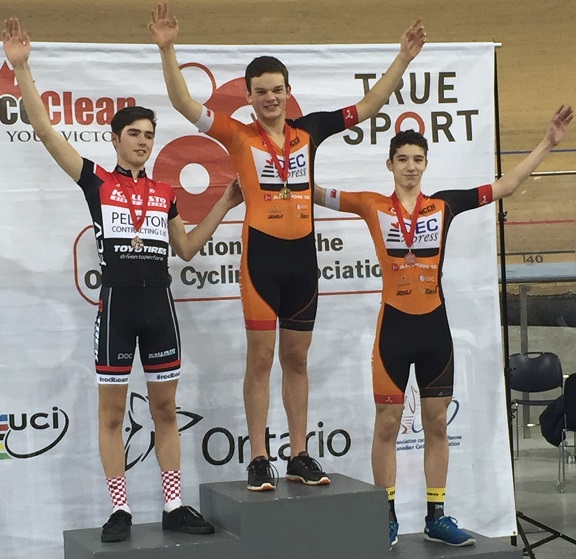 Many of the riders competing at the Championships were identified through the local Try-Cycle Schools program over the past few years.
Schools Program
Schools Program Coordinator Maddi Vit said: "We are currently visiting local Hamilton region schools, it's a fun and interactive program. If there are any schools interested in having us come along contact me on officesupport@ncch.ca."
And it's not just for youth that want to go fast, the NCCH has programs to suit everybody, essentially it's a self- paced program, based on your goals! Mountain Bike, Road, Track, Cyclocross they cater for all disciplines!
The NCCH is currently offering a "teaser program" called 1st Gear, a FREE intro to cycling conducted over 4 – weekly sessions. All you need is gym gear and a helmet, everything is supplied!
Off to University
NCCH rider Daniel Nesbitt was the first rider from our program to earn a Scholarship to a USA University, another rider from the NCCH has been offered a scholarship in the USA. Rick Lee Manager/Head Coach at NCCH said: "This is a very exciting period for our program, we expect a steady 'stream' of riders being able to use their academic and cycling abilities to help them further their education in the US, where they can take part in the Collegiate Cycling system, and gain their degree."
Any High Performance athlete that is interested in this pathway are encouraged to contact us.
Next Events
The Team's next big event is the Good Friday Road Race conducted by the Hamilton Cycling Club. Then it is off to the National Track Cycling Championships at Milton on 1st April.
National Cycling Centre Hamilton (NCCH) is a not-for-profit corporation created as legacy organization following the very successful 2003 UCI World Road Cycling Championships in Hamilton Ontario. It operates out of the Morgan Firestone Arena on Jerseyville Road West in Ancaster.
The Centre is one of six nationally recognized cycling centers in Canada and is responsible for identifying, recruiting, testing, coaching and training high performance and development of athletes in the Province of Ontario. The Centre is formally partnered with the Canadian Cycling Association, the Ontario Cycling Association, the City of Hamilton and McMaster University. Since its creation in 2005, the Centre has assisted over 75 athletes win medals at National Championships and/or become members of the Canadian National Cycling Team.
We welcome your involvement with the Centre as an athlete, coach, parent, volunteer, or supporter. Please contact us on officesupport@ncch.ca should you wish to find out more about our programs or services.