November 14, 2013 (Hamilton, ON) — National Cycling Centre Hamilton (NCCH) is delighted to announce that Quebec rider Audrey Labrie, and USA rider Erin Donohue have signed to race with NCCH in 2014. Both riders represented their respective countries at the 2012 Junior World Road Championships.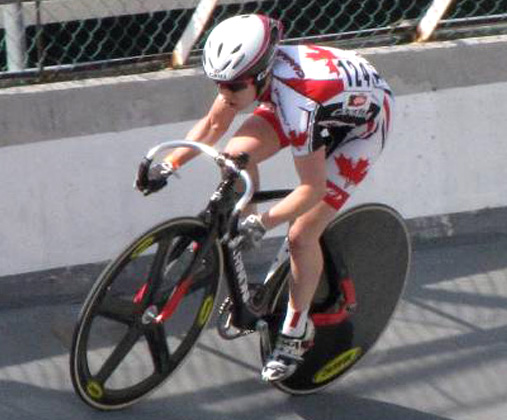 NCCH Manager/Head Coach Rick Lee said 'Both Audrey and Erin bring a great deal of International racing to our Centre, and above all they have the right attitude!
Erin is a gutsy rider, she proved that in winning the UCI GP Rimouski in 2012, and Audrey has an explosive sprint. You throw in Jess Allen (Aus 2011 Junior IRTT World Champion), Maddison Vit (AUS 2011 Junior World representative), and our own Saskia Kowalchuk (2012 National Junior IRTT Champion) & Madeleine McConnell (3rd UCI GP Rimouski 2012), and you have a very strong team.
Having the International riders racing and training with our youngsters at the NCCH creates a very positive environment, our youngsters will have role models and mentors to help lift them to new levels of belief and performance."
Saskia Kowalchuk said "The Team will have 5 riders who have represented their Countries at the World Championships in the past 2 years, we have top class time trial riders, a top sprinter, and riders that are strong in the hills. We will be a very young team, yet I know that we will be very competitive, and I cannot wait to reunite/meet with all the girls in Spring 2014."
Audrey Labrie
– 6 times QC provincial champ.
– 7 times Junior Track National Champ.
– 2012 Junior Crit National Champ.
– 3rd at 2012 Junior Road Nationals
– 4 time medalist at junior track Pan Am's (2010-2012)
– Silver medalist at 2012 Junior Road Pan Am's
– 2 top 10 at 2011 Junior Track Worlds
– 3 top 10 at 2012 Junior Track Worlds
– 43rd at 2012 Junior Road Worlds
– 2 stage wins and green jersey at 2012 Tour de la Relève
– bronze medalist at 2013 Track Nationals
– 6th in the Omnium at 2013 Track Nationals
Erin Donohue recent results
– 1st UCI GP Rimouski 2012
– Represented USA Junior World Championships 2012
– 3rd USA Cyclocross Championships
– 5th USA National IRTT Championships 2012
– 5th USA U23 National Cyclocross Championships
National Cycling Centre Hamilton (NCCH) is a not-for-profit corporation created as legacy organization following the very successful 2003 UCI World Road Cycling Championships in Hamilton Ontario. It operates out of the Morgan Firestone Arena on Jerseyville Road West in Ancaster.
The Centre is one of five nationally recognized cycling centers in Canada and is responsible for identifying, recruiting, testing, coaching and training high performance and development athletes in the Province of Ontario. The Centre is formally partnered with the Canadian Cycling Association, the Ontario Cycling Association, the City of Hamilton and McMaster University. Since its creation in 2005, the Centre has assisted over 30 athletes win medals at National Championships and/or become members of the Canadian National Cycling Team.
We welcome your involvement with the Centre as an athlete, coach, parent, volunteer, or supporter. Please contact us should you wish to find out more about our programs or services.