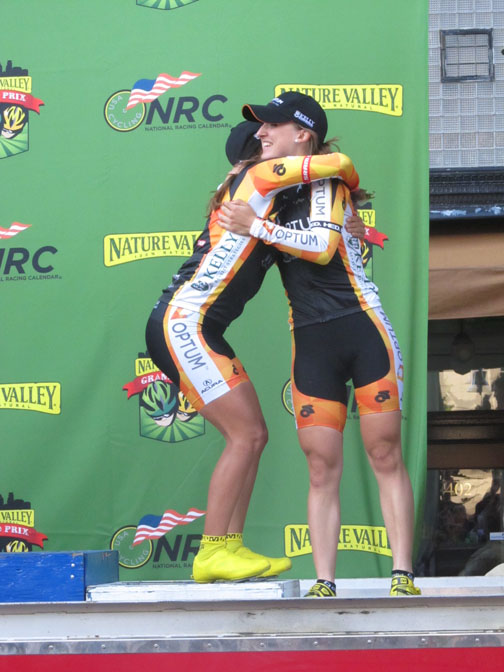 June 14, 2012  (Minneapolis, Minnesota) –
Pedal
caught up with Leah Kirchmann (Optum Pro Cycling p/b Kelly Benefit Strategies) before Tuesday's 2nd stage, the Downtown St. Paul Criterium for her thoughts. After all, she's Canada's National Criterium Champion and her teammate, Carmen Small, was the overall leader after this morning's 12.4km time trial.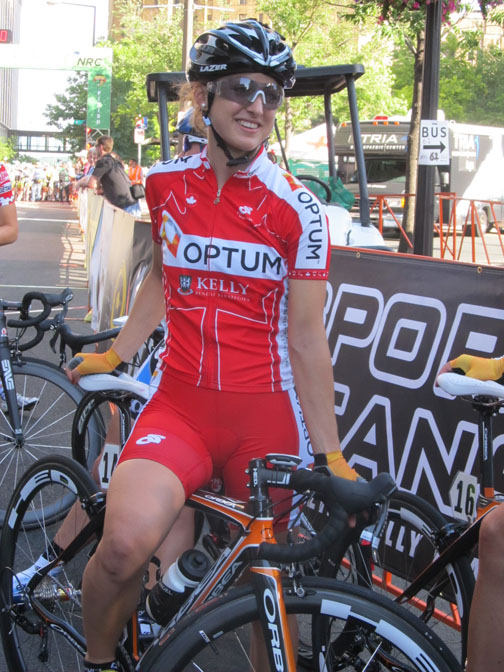 Leah Kirchmann – Optum Pro Cycling p/b Kelly Benefit Strategies – 12th after stage 1 St. Paul Riverfront Time Trial
You have your teammate in the leader's jersey, how does that feel?
Leah Kirchmann:  Oh, it's a really exciting thing, having the leader's jersey on both the men's (Tom Zirbel led the men's race after the Stage 1 Time Trial) and the women's side. It's pretty special and we're really pumped up going into today's race.
You know this course from last year. How tough is it to protect Carmen's jersey?
LK: It'll definitely be tough, there are a lot of sprints in today's race so it'll take a team effort to protect the jersey and be careful about who's getting those bonuses.
You were aggressive in every stage here last year, could this be a good course for you?
LK: Definitely! I think it's a great, technical course and it's really windy out there. I'm excited for the race to play out?
And excited to show off your National Criterium Champion's jersey?
LK: Definitely! It's always exciting to wear the Maple Leaf!
Good luck and thanks.
LK: Thank you.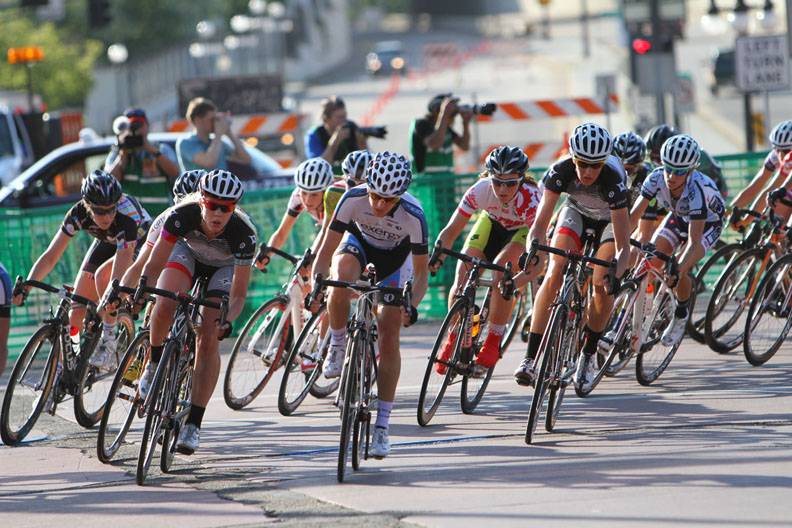 Post race Interviews
Well, team Optum showed that aggression is the better part of valour. Carmen Small, who had led the overall GC by 9 seconds, won the first two time bonus sprints and took 3rd in the final sprint to extended her lead to 25 seconds.
As for Canada's sprint champion, Kirchmann took second in the final sprint to Exergy Twenty 12's Theresa Cliff-Ryan to land on the podium.
Team Optum had an excellent day – you came in second on the stage and Carmen did a great job in the intermediate and final sprints to pad her overall lead.
LK: Yeah, it was a really amazing team effort today. We defended the Yellow Jersey, Carmen picked up time bonuses and we got 2nd and 3rd. We were going for the stage win but unfortunately we got jumped before the last corner, which we weren't expecting, but it's bike racing so that happens (laughs.)
So how did the final play out?
LK: Well about halfway through the lap, Jade (Wilcoxson) took over the lead for us and then we had Carmen going but then Exergy came up right beside us and attacked into the last corner, which like I mentioned, we weren't expecting!
There's always next time!
LK: Yeah!
And with that, race officials corraled Kirchmann for her podium duties and she happily obliged!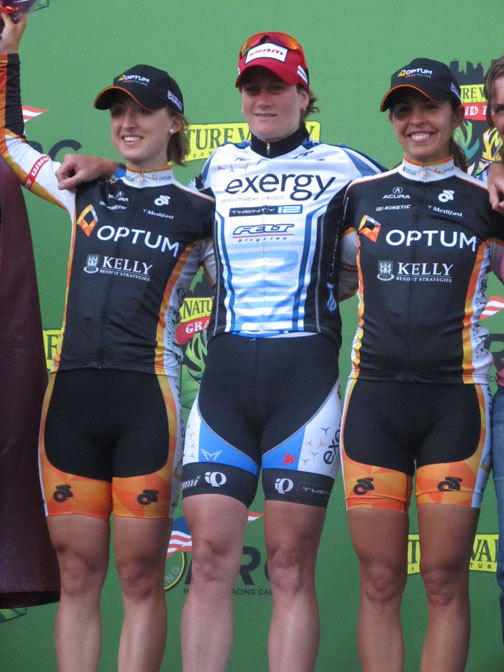 Results
Elite Women
1. Theresa Cliff-Ryan (USA) Exergy TWENTY12  0:59:09
2. Leah Kirchmann (Can) Optum Pro Cycling p/b Kelly Benefit Strategies
3. Carmen Small (USA) Optum Pro Cycling p/b Kelly Benefit Strategies
4. Lenore Pipes (Gum) Kowalski's Collegiate All-Stars
5. Loren Rowney (Aus) Specialized-lululemon
6. Emily Collins (NZl) Vanderkitten-Focus
7. Anne-Marie Morin (Can) Specialized-Mazda-SGC
8. Heather Logan Sprenger (Can) Exergy TWENTY12
9. Samantha Schneider (USA) Team TIBCO -To The Top
10. Lindsay Bayer (USA) Nature Valley Cycling Team
11. Jade Wilcoxson (USA) Optum Pro Cycling p/b Kelly Benefit Strategies
12. Emilia Fahlin (Swe) Specialized-lululemon
13. Mayra del Rocio Rocha (Mex) Mexican National Team
14. Jasmin Hurikino (Aus) Vanderkitten-Focus
15. Amber Neben (USA) Specialized-lululemon
16. Karlee Gendron (Can) Specialized-Mazda-SGC
17. Janel Holcomb (USA) Optum Pro Cycling p/b Kelly Benefit Strategies
18. Ally Stacher (USA) Specialized-lululemon
19. Jenny Rios (Mex) SC Velo – Empower Coaching  7
20. Heather Fischer (USA) Kowalski's Collegiate All-Stars
21. Meredith Miller (USA) Team TIBCO -To The Top
22. Megan Guarnier (USA) Team TIBCO -To The Top
23. Ingrid Drexel (Mex) Mexican National Team
24. Sarah Fader (USA) FCS|ROUSE p/b Mr. Restore
25. Julie Beveridge (Can) Colavita/EspnW
26. Amanda Miller (USA) Team TIBCO -To The Top
27. Nicole Whitburn (Aus) Freewheel Bike
28. Mary Zider (USA) Colavita/EspnW
29. Denise Ramsden (Can) Optum Pro Cycling p/b Kelly Benefit Strategies
30. Jackie Crowell (USA) Exergy TWENTY12
31. Briana Clark (USA) Nature Valley Cycling Team
32. Allison Bevridge (Can) Specialized-Mazda-SGC
33. Lindsay Myers (USA) Team TIBCO -To The Top
34. Brianna Walle (USA) Nature Valley Cycling Team
35. Jenny Ives (USA) Team Kenda presented by Geargrinder
36. Jamie Dinkens Bookwalter (USA) Colavita/EspnW
37. Rebecca Werner (Aus) Specialized-lululemon
38. Annie Ewart (Can) Optum Pro Cycling p/b Kelly Benefit Strategies
39. Jennifer Purcell (USA) Team TIBCO -To The Top
40. Katie Spittlehouse (Can) ISCorp Cycling Team
41. Amy Alison Dombroski (USA) FCS|ROUSE p/b Mr. Restore
42. Joy McCulloch (USA) Nature Valley Cycling Team
43. Virginie Gauthier (Can) Specialized-Mazda-SGC
44. Erin Silliman (USA) MVP Health Care Cycling
45. Kathleen Billington (USA) Vanderkitten-Focus
46. Arley Kemmerer (USA) MVP Health Care Cycling
47. Courteney Lowe (NZl) Optum Pro Cycling p/b Kelly Benefit Strategies
48. Lauren Stephens (USA) FCS|ROUSE p/b Mr. Restore
49. Kathryn Hunter (USA) FCS|ROUSE p/b Mr. Restore
50. Melina Bernecker (USA) SC Velo – Empower Coaching
51. Holly Breck (USA) SC Velo – Empower Coaching
52. Kate Chilcott (NZl) Vanderkitten-Focus
53. Nik Vogler (Can) Specialized-Mazda-SGC
54. Amber Gaffney (USA) SC Velo – Empower Coaching
55. Terra James (USA) Team Kenda presented by Geargrinder  0:16
56. Erin Burton (USA) Nature Valley Cycling Team  0:19
57. Anna Sanders (USA) FCS|ROUSE p/b Mr. Restore  0:24
58. Ana Teresa Casas (Mex) Mexican National Team
59. Anna Barensfeld (USA) Optum Pro Cycling p/b Kelly Benefit Strategies
60. Veronica Leal (Mex) Mexican National Team
61. Tayler Wiles (USA) Exergy TWENTY12
62. Kaitlin Antonneau (USA) Exergy TWENTY12
63. Amity Elliot (USA) Team Kenda presented by Geargrinder  0:51
64. Amy McGuire (USA) FCS|ROUSE p/b Mr. Restore
65. Julie Cutts (USA) SC Velo – Empower Coaching
66. Julie Jerue (USA) ISCorp Cycling Team
67. Kristin McGrath (USA) Exergy TWENTY12  1:06
68. Sarah Sturm (USA) Kowalski's Collegiate All-Stars  1:41
69. Hayley Giddens (NZl) ISCorp Cycling Team
70. Christina Birch (USA) Freewheel Bike  1:46
71. Veronique Drapeau-Zgoralski (Can) Specialized-Mazda-SGC
72. Starla Teddergreen (USA) Vanderkitten-Focus  2:09
73. Veronique Fortin (Can) Team TIBCO -To The Top  2:17
74. Jennifer Reither (USA) Vanderkitten-Focus  4:23
75. Rachel Byus (USA) FCS|ROUSE p/b Mr. Restore  4:31
76. Katie Quinn (USA) Kowalski's Collegiate All-Stars  8:16
77. Laura Meadley (Aus) MVP Health Care Cycling  8:31
78. Rachel Warner (USA) FCS|ROUSE p/b Mr. Restore  0:10:34
79. Alexsis Ryan (USA) Team TIBCO -To The Top
80. Elizabeth Lauer (USA) Team Kenda presented by Geargrinder  0:14:01
81. Zoe Reker (USA) ISCorp Cycling Team  0:15:41
82. Raquel Miller (USA) Freewheel Bike  0:15:46
83. Lindsey Durst (USA) ISCorp Cycling Team  0:17:36
84. Jenn Perricone (USA) ISCorp Cycling Team  0:17:56
85. Bridie O'Donnell (Aus) Vanderkitten-Focus
86. Trina Jacobson (USA) Nature Valley Cycling Team  0:19:56
87. Casey Kelly (USA) MVP Health Care Cycling
88. Abby Ruess (USA) Freewheel Bike
89. Catherine Johnson (USA) Nature Valley Cycling Team
90. Lauren De Crescenzo (USA) Team Kenda presented by Geargrinder
DNF  Courtney Dimpel (USA) Vanderkitten-Focus
DNF  Kathryn Bertine (SKN) Colavita/EspnW
DNF  Alice Wallet (Aus) MVP Health Care Cycling
DNF  Stephanie Bunnett (USA) Kowalski's Collegiate All-Stars
DNF  Jasmine Hansen (USA) Kowalski's Collegiate All-Stars
GC after Stage 2
1. Carmen Small (USA) Optum Pro Cycling p/b Kelly Benefit Strategies  1:16:23
2. Amber Neben (USA) Specialized-lululemon  0:25
3. Janel Holcomb (USA) Optum Pro Cycling p/b Kelly Benefit Strategies  0:29
4. Jackie Crowell (USA) Exergy TWENTY12  0:32
5. Jade Wilcoxson (USA) Optum Pro Cycling p/b Kelly Benefit Strategies  0:37
6. Emilia Fahlin (Swe) Specialized-lululemon  0:39
7. Denise Ramsden (Can) Optum Pro Cycling p/b Kelly Benefit Strategies  0:45
8. Brianna Walle (USA) Nature Valley Cycling Team  0:48
9. Amber Gaffney (USA) SC Velo – Empower Coaching  0:53
10. Leah Kirchmann (Can) Optum Pro Cycling p/b Kelly Benefit Strategies  0:54
11. Theresa Cliff-Ryan (USA) Exergy TWENTY12  1:10
12. Annie Ewart (Can) Optum Pro Cycling p/b Kelly Benefit Strategies
13. Julie Beveridge (Can) Colavita/EspnW  1:11
14. Tayler Wiles (USA) Exergy TWENTY12  1:12
15. Heather Logan Sprenger (Can) Exergy TWENTY12  1:15
16. Ally Stacher (USA) Specialized-lululemon  1:19
17. Jamie Dinkens Bookwalter (USA) Colavita/EspnW  1:23
18. Kathryn Hunter (USA) FCS|ROUSE p/b Mr. Restore  1:25
19. Amanda Miller (USA) Team TIBCO -To The Top
20. Loren Rowney (Aus) Specialized-lululemon  1:27
21. Lindsay Bayer (USA) Nature Valley Cycling Team  1:30
22. Emily Collins (NZl) Vanderkitten-Focus  1:34
23. Jasmin Hurikino (Aus) Vanderkitten-Focus  1:37
24. Meredith Miller (USA) Team TIBCO -To The Top  1:38
25. Kristin McGrath (USA) Exergy TWENTY12  1:41
26. Anna Barensfeld (USA) Optum Pro Cycling p/b Kelly Benefit Strategies  1:42
27. Mary Zider (USA) Colavita/EspnW  1:44
28. Allison Bevridge (Can) Specialized-Mazda-SGC  1:54
29. Rebecca Werner (Aus) Specialized-lululemon  1:55
30. Briana Clark (USA) Nature Valley Cycling Team  1:56
31. Lauren Stephens (USA) FCS|ROUSE p/b Mr. Restore  1:57
32. Veronica Leal (Mex) Mexican National Team
33. Lindsay Myers (USA) Team TIBCO -To The Top  2:00
34. Megan Guarnier (USA) Team TIBCO -To The Top
35. Kathleen Billington (USA) Vanderkitten-Focus  2:02
36. Nicole Whitburn (Aus) Freewheel Bike
37. Erin Burton (USA) Nature Valley Cycling Team  2:06
38. Heather Fischer (USA) Kowalski's Collegiate All-Stars
39. Samantha Schneider (USA) Team TIBCO -To The Top
40. Mayra del Rocio Rocha (Mex) Mexican National Team  2:10
41. Lenore Pipes (Gum) Kowalski's Collegiate All-Stars  2:12
42. Karlee Gendron (Can) Specialized-Mazda-SGC
43. Kaitlin Antonneau (USA) Exergy TWENTY12  2:16
44. Jenny Rios (Mex) SC Velo – Empower Coaching  2:17
45. Anna Sanders (USA) FCS|ROUSE p/b Mr. Restore  2:24
46. Courteney Lowe (NZl) Optum Pro Cycling p/b Kelly Benefit Strategies  2:26
47. Julie Cutts (USA) SC Velo – Empower Coaching
48. Melina Bernecker (USA) SC Velo – Empower Coaching  2:29
49. Amity Elliot (USA) Team Kenda presented by Geargrinder  2:30
50. Nik Vogler (Can) Specialized-Mazda-SGC  2:32
51. Amy Alison Dombroski (USA) FCS|ROUSE p/b Mr. Restore  2:46
52. Holly Breck (USA) SC Velo – Empower Coaching
53. Ingrid Drexel (Mex) Mexican National Team
54. Kate Chilcott (NZl) Vanderkitten-Focus  2:47
55. Virginie Gauthier (Can) Specialized-Mazda-SGC
56. Erin Silliman (USA) MVP Health Care Cycling  2:50
57. Julie Jerue (USA) ISCorp Cycling Team  2:56
58. Anne-Marie Morin (Can) Specialized-Mazda-SGC  2:57
59. Katie Spittlehouse (Can) ISCorp Cycling Team  2:59
60. Terra James (USA) Team Kenda presented by Geargrinder  3:07
61. Ana Teresa Casas (Mex) Mexican National Team
62. Jennifer Purcell (USA) Team TIBCO -To The Top  3:14
63. Arley Kemmerer (USA) MVP Health Care Cycling  3:23
64. Jenny Ives (USA) Team Kenda presented by Geargrinder  3:26
65. Sarah Fader (USA) FCS|ROUSE p/b Mr. Restore  3:34
66. Joy McCulloch (USA) Nature Valley Cycling Team  3:36
67. Veronique Fortin (Can) Team TIBCO -To The Top  3:40
68. Amy McGuire (USA) FCS|ROUSE p/b Mr. Restore  3:43
69. Christina Birch (USA) Freewheel Bike  4:22
70. Hayley Giddens (NZl) ISCorp Cycling Team  4:23
71. Sarah Sturm (USA) Kowalski's Collegiate All-Stars  4:50
72. Veronique Drapeau-Zgoralski (Can) Specialized-Mazda-SGC  4:57
73. Starla Teddergreen (USA) Vanderkitten-Focus  5:39
74. Jennifer Reither (USA) Vanderkitten-Focus  7:04
75. Rachel Byus (USA) FCS|ROUSE p/b Mr. Restore  7:55
76. Katie Quinn (USA) Kowalski's Collegiate All-Stars  0:10:51
77. Laura Meadley (Aus) MVP Health Care Cycling  0:11:13
78. Rachel Warner (USA) FCS|ROUSE p/b Mr. Restore  0:12:51
79. Alexsis Ryan (USA) Team TIBCO -To The Top  0:13:57
80. Elizabeth Lauer (USA) Team Kenda presented by Geargrinder  0:16:25
81. Raquel Miller (USA) Freewheel Bike  0:17:32
82. Zoe Reker (USA) ISCorp Cycling Team  0:18:13
83. Bridie O'Donnell (Aus) Vanderkitten-Focus  0:19:30
84. Lindsey Durst (USA) ISCorp Cycling Team  0:20:37
85. Jenn Perricone (USA) ISCorp Cycling Team  0:20:53
86. Lauren De Crescenzo (USA) Team Kenda presented by Geargrinder  0:22:14
87. Casey Kelly (USA) MVP Health Care Cycling  0:22:55
88. Catherine Johnson (USA) Nature Valley Cycling Team  0:23:04
89. Abby Ruess (USA) Freewheel Bike  0:23:15
90. Trina Jacobson (USA) Nature Valley Cycling Team  0:23:34