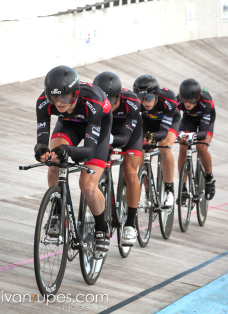 November 10, 2013 – After a long and successful 2013 season, the National Cycling Centre Hamilton (NCCH) does not stop, and to give an indication of 'What's happening at NCCH', here is a snap shot.
NCCH & Team CHCH!   What are we about?
We Identify, recruit and develop athletes and coaches through a structured training environment, with a focus on commitment, dedication, self-discipline and applied effort to achieve athlete determined goals.
Our priority is on the development of junior athletes, as they are the future of the sport, but we are inclusive of all ages and abilities.
We place importance on the whole athlete acknowledging that lessons, learned through sport contribute to the growth and development in all areas of one's life. NCCH then places these riders into teams, and currently the NCCH racing "arm" is Team CHCH.
Trillium Tri-Cycle program: is in full swing, with testing to continue until mid-December. We will have accessed and promoted cycling to well over 10,000 students in 2013 alone, so over the 3 year period over 30,000! This program has produced National & International class athletes over the past few years. This program will continue to be our major recruitment activity.
Banquet: The Annual NCCH Banquet & Awards evening will be conducted at Marquis Gardens in Ancaster on 23rd November.  This is a great opportunity for the riders, parents, sponsors, staff, and volunteers to celebrate and 'kick up their heels'.
Indoor Training: The studio is in full swing, with sessions every evening, and early mornings.  Functional Threshold Testing for every athlete (approximately 150) will be conducted on the weekend of 16th November.  We have programs for Youth & Adult Sportif through to Elite Select!
U23 Teams: NCCH will be developing a U23 male & female team for 2014, this will be a major project for the Centre and the presence of NCCH riders in higher levels will be seen.  This is the NCCH's opportunity to show that we have now developed our elite juniors to a level where they can compete at the 'top end', and we cannot wait for the opportunity.
Milton Velodrome: NCCH has a major focus on the track, and with the Pan Am Velodrome being built in our 'neighborhood', riders are getting ready to hit the boards in a big way this time in 2014. We conduct projects to the FCV to introduce our riders to track cycling, and we are a big supporter of FCV.
NCCH Select Program: NCCH has a number of squad programs, including the Youth Select & Select, these riders get access to top class equipment and ARGON 18 bikes (Road/Track/TT). The Squads were officially announced on 6th November, with 16 of the 24 riders selected having won National Medals – read more here.
Coaching Development: The NCCH will facilitate another CI course for members and non-members early in 2014, this is in line with our commitment to train Coaches as well as athletes. In addition we will continue to seek further training and skills for our growing number of coaches.
Sunday – Club/Team Day: The NCCH is opening up Sundays as Club days.  Clubs can have access to our facility for training, or testing, or team building. More information here.
Sponsorship Officers: Our very experienced Sponsorship Officers are always busy building relationships for the future, and marrying the sponsor's needs with that of the NCCH or its teams.
Carded athletes: Many NCCH athletes have been awarded carded opportunities, with Provincial and Quest for Gold Carding.  In 2014 NCCH will have potentially 5-6 athletes who will receive QfG or provincial carding.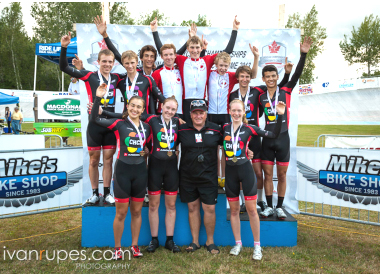 Youth Championships: The NCCH has conducted the Ontario Youth Championships in Ancaster for the past 2 years, this has been a very successful event, and the NCCH intends to continue to conduct events to support Ontario cycling in the future.
2013 Results: A very solid year on which to build on for 2014 and beyond, highlights include;
– 18 National Medals on Road & Track
– 5 riders into National Teams
– 1st Young Rider Jersey UCI Nations Cup – France
– 1st Charlevoix Stage Race
– 1st & 3rd Granby TT
– 1st & 3rd Charlevoix TT
– 1st & 3rd Abitibi TT
– 1st U17 Battenkill USA
– 1st Rimouski General Classification U17 Men
– 1st Rimouski General Classification U17 Women
– 1st U19 Tour of Dragons USA
– Numerous Youth Cup and O Cup podiums
National Cycling Centre Hamilton (NCCH) is a not-for-profit corporation created as legacy organization following the very successful 2003 UCI World Road Cycling Championships in Hamilton Ontario. It operates out of the Morgan Firestone Arena on Jerseyville Road West in Ancaster.
The Centre is one of five nationally recognized cycling centers in Canada and is responsible for identifying, recruiting, testing, coaching and training high performance and development athletes in the Province of Ontario. The Centre is formally partnered with the Canadian Cycling Association, the Ontario Cycling Association, the City of Hamilton and McMaster University. Since its creation in 2005, the Centre has assisted over 30 athletes win medals at National Championships and/or become members of the Canadian National Cycling Team.
We welcome your involvement with the Centre as an athlete, coach, parent, volunteer, or supporter. Please contact us should you wish to find out more about our programs or services.