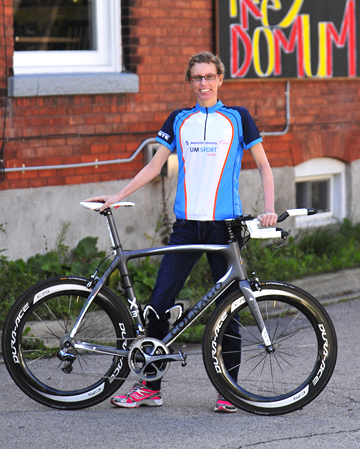 September 27, 2013 (Saint-Georges, QC) – Procycle, a leading Canadian bicycle manufacturer, now the exclusive Canadian distributor of Italian road brand Colnago, has paired with top equipment suppliers Shimano Canada and Tacx trainers, to sponsor 31-year old Naomi Cermak (Cambridge, Ontario) battling stage IV melanoma cancer in pursuit of her Kona Ironman competition.
Through the Kona Inspired video contest, Naomi won the chance to compete in the World Ironman Championship this October. This opportunity would present challenging to anyone entering, but even more to Naomi who is battling an aggressive melanoma cancer that has left her weak and fatigued at times. A fighter by nature, Naomi grew up racing road bikes at a high level while pursuing her PhD in Sports Physiology. In 2012, she received news that her cancer had returned. Since then, Naomi has fought to keep her health stable and set her sights on training.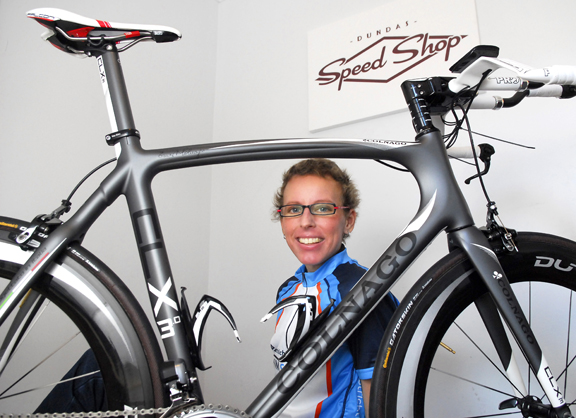 Procycle (Colnago), Shimano and Tacx congratulate Naomi on her achievements on and off the bike, and recognize her incredible fight to the finish line of her Ironman.
"Naomi caught our radar when her story was first published on facebook when entering the contest. Her continued fight and incredible determination to conquer all odds is truly remarkable," says Juli Dutil, Manager for Colnago at Procycle. "To be involved with Naomi is something truly rewarding for us as a company and we surely hope the best for her."
"Shimano is proud to support Naomi in her quest to become an Ironman! Her dedication is a testament to the human spirit and an inspiration to all!" says Greg Hammond, North American Sports Marketing Manager for Shimano.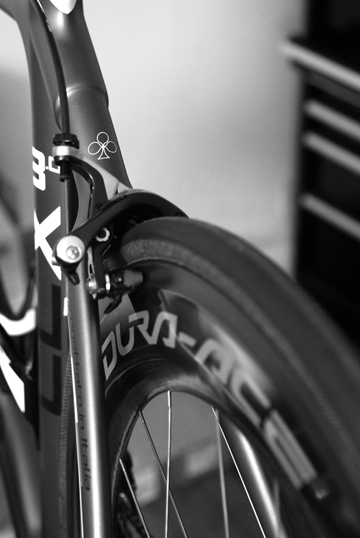 Naomi received a 2014 Colnago CLX 3.0 road bike custom built with a complete Shimano component package, including 11-speed Dura Ace Di2 for reliable, digital gear shifting. Tacx prepared a Tacx Booster trainer for Naomi to be able to train under any condition indoors, in her lead up to Ironman.
What can you do?
– Help Naomi achieve her goal of raising $10,000 for Melanoma Immunotherapy Research through her dedicated fundraising page, found here
– Follow Naomi on Twitter here
– Learn more about Naomi's story and how she won the chance to compete here