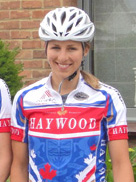 June 10, 2012 (Hood River, Oregon) – Juwi Solar's 18-year-old rider Jeff Perrin took the win in an exciting finish during Saturday evening's stage 3 downtown Hood River criterium at the Mt. Hood Cycling Classic, while Canadian Jennifer Lehmann (Trek/Red Truck) won a bunch sprint to seal the women's stage victory.
Men's Race
Racing for 60 minutes over the 1km technical course with a downhill corkscrew turn, the men's race suffered a large crash about halfway through the race that caused a restart, but the stage did little to change the overall classification.
A late-race breakaway provided plenty of excitement as three riders dangled just off the front of the field with less than 10 laps to go. Perrin joined Cal Giant Berry/Specialized's Nate Wilson and Hagens Berman's Chris Wingfield in a move that gained just enough traction to keep the field at bay.
The trio had a slim margin of 10 seconds with three to go and started the last lap with just a seven-second sliver of a gap. By the time the breakaway reached the finish line it was indistinguishable from the field but still in front. Perrin came through the last corner second wheel but was able to jump ahead of Wilson for the win. Wingfield held on for third. Overall race leader Nate English finished safely in the bunch and will start Sunday's finale stage in yellow.
Women's Race
The women's race turned into a battle of attrition as Giant's Kelli Emmett, who started the stage third overall, jumped away several times but was quickly reeled in by overall leader Rhae Shaw's ExergyTWENTY12 teammate Alison Tetrick. The scenario played out over and over again until the group settled in for the bunch sprint, but not until after Shaw crashed and used up a free lap to get back into the race.
Lehmann came out of the last corner several riders back but overtook Emmett and Tetrick, who took second and third, respectively. Shaw finished fourth on the stage and held onto her overall race lead.
The 2012 Mt. Hood Cycling Classic concludes Sunday with the Three Summits Road Race, which starts at Cooper Spur Resort and finishes at Cooper Spur Ski Area. The men will race 91 miles and tackle more than 10,000 feet of climbing through the Mt. Hood National Forest, while the women will face 70 miles and more that 7,000 feet of climbing.
Results
Men
1. Jeff Perrin (Juwi Solar) 1:02:04
2. Nate Wilson (Cal Giant Berry/Specialized) s.t.
3. Chris Wingfield (Hagens Berman) s.t.
4. Sam Bassetti (Cal Giant Berry/Specialized) s.t
5. Stephen Leece (Cal Giant Berry/Specialized) s.t.
6. Ricky Escuela (Full Circle Cycling) s.t.
7. Michael Larson (Full Circle Cycling) s.t.
8. Griffin Easter (Ritte U23 Development Team) s.t.
9. Andy Goessling (Team Mike's Bikes) s.t.
10. Robin Eckmann (Cal Giant Berry/Specialized) s.t.
Women
1. Jenny Lehmann (Trek/Red Truck) 45:40
2. Kelli Emmett (Giant) s.t.
3. Alison Tetrick (ExergyTWENTY12) s.t.
4. Rhae Shaw (ExergyTWENTY12) s.t.
5. Hilary Billington (Veloce/Smith & Nephew) s.t.
6. Ivy Audrian (Keller Rohrback) s.t.
7. Jennifer Burtner (Olympia Orthopedic Associates) s.t.
8. Zayda Maguire (Kenda/Geargrinder) s.t.
9. Nicole Justice (Stevens Bikes/Pactimo)
10. Lindsay Fox (Athletes Lounge) s.t.
GC after Stage 3
Men
1. Nate English (Kenda/5-Hour Energy) 5:13:46
2. Nate Wilson (Cal Giant Berry/Specialized) :13
3. Sam Johnson (Team Exergy) :29
4. Evan Huffman (Cal Giant Berry/Specialized) :34
5. Stephen Leece (Cal Giant Berry/Specialized) :41
6. Julian Kyer (Juwi Solar) :59
7. Justin Rossi (Marc Pro-Strava) 1:06
8. Coulton Hartrich (Athletix Cycling/Globalbike) 1:15
9. Jonathan Teeter (Marc Pro-Strava) 1:17
10. Robin Eckmann (Cal Giant Berry/Specialized) 1:21
Women
1. Rhae Shaw (ExergyTWENTY12) 4:09:31
2. Alison Tetrick (ExergyTWENTY12) 1:35
3. Kelli Emmett (Giant Factory Team) 7:49
4. Rosalyn Zylkowski (Keller Rohrback) 13:08
5. Kristina Lackner (Hutch's) 13:44
6. Jenny Lehmann (Trek/Red Truck) 13:56
7. Nicole Justice (Stevens Bikes/Pactimo) 14:31
8. Jennifer Burtner (Olympia Orthopedic Associates) 14:44
9. Lisa Turnbull (REP) 15:28
10. Lindsay Fox (Athletes Lounge) 16:28