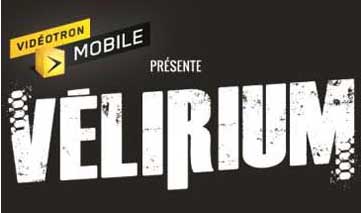 March 23, 2016 (Beaupré, QC) – Adrenaline and intensity will be present once more from August 5-7 for Vélirium presented by Videotron Mobile, which will welcome the 26th edition of the UCI Mountain Bike World Cup in Mont-Sainte-Anne. For the cross-country discipline's elite, this will be the last chance to participate in a World Cup event before the Olympic Games in Rio. Furthermore, the UCI Downhill World Cup presented by Videotron Mobile promises an exciting combination of speed, power, and skill, sure to dazzle spectators and thrill-seekers alike.
Some 1,000 amateur and professional athletes from more than 25 countries are expected in Quebec for moments on the Mont-Sainte-Anne slopes that are sure to be remembered. Among them, Quebecer Raphael Gagné will definitely be the athlete to look out for on the Canadian team. Currently 17th in the Union Cycliste Internationale world rankings, Gagné is very likely to take part in the upcoming Rio Olympics on August 20th and 21st. The national Canadian team's roster heading to Brazil will be revealed at the end of June.
Thrills and spills
Alongside this weekend's World Cup, the many amateur competitions and activities that form part of the Vélirium program are sure to please fans of all ages! Indeed, mountain bike enthusiasts wishing to cycle rarely used sections of Mont-Sainte-Anne can sign up for one of the 30, 60, or 80 km Vélo Mag Raid events as of April 1 via velirium.com. Mountain bike fans will be more than catered for throughout the weekend, with the return of the Pumptrack Epic and the Duel de la Côte! Not to forget the traditional Véli-Kidz children's race held at the Family Site, where tomorrow's stars will wow the crowd. Once more this year, spectators will also have the chance to see the mountain biking industry's biggest names in the Exhibitor's village located at the base of the mountain. The famous Lounge Tremblay parties are also back on weekend nights, and the full program will be launched soon.
Sneak peek
Saturday August 6th
UCI Downhill World Cup presented by Videotron Mobile
Vélo Mag Raid
Duel de la Côte
Sunday August 7th
UCI Cross-Country World Cup
Véli-Kidz
Pumptrack Epic Challenge