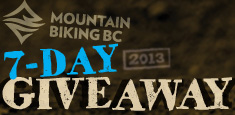 May 07, 2013 (Vancouver, BC) – Once again Mountain Biking BC is giving you the chance to win a fully supported week of incredible mountain biking in BC. 2013 marks the third year of the contest. "Here in BC we are fortunate to have communities and resorts with some of the best mountain biking in the world." says Martin Littlejohn, Executive Director of the Mountain Bike Tourism Association, "Each year the contest features a different region of the province and this year we are excited about the diverse sampling we have lined up in the Cariboo Chilcotin Coast region."
The 7 Day Giveaway Contest offers the chance to experience unforgettable riding in destinations across British Columbia.  The winner will explore legendary trails accompanied by some of the best guiding and instruction in the industry. To top it off the winner can bring along their best riding buddy to join in the adventure.
This year's grand prize tour will feature communities in the Cariboo Mountain Bike Consortium and much more. The fun gets started with some high country riding in Wells and some time to chill at the renowned ArtsWells Music Festival on the August long weekend.  Next stop will be Williams Lake, the epicenter of Cariboo mountain biking culture and home to some of the best freeride and all-mountain trails in the province.  Then it's off to 100 Mile House and The Hills Health Ranch to rejuvenate with some wholesome XC riding on their vast network of trails. As the trip gets beyond the halfway mark the tranquility of Tyax Wilderness Resort & Spa awaits in the South Chilcotin with a spectacular overnight wilderness biking adventure provided by Tyax Adventures. The final destination will be the world famous Whistler Mountain Bike Park. Endless Biking will provide their expertise in guiding and instruction throughout the trip ensuring the winner feels in good hands and can take their skills to the next level.
The grand prize tour will take place from August 3-11, 2013 starting out from Vancouver and ending in Whistler.  The trip includes ground transportation, accommodation, professional guides, $1,000 cash, and a whole lot of fun.
For full contest details and to enter head to Mountain Biking BC or on Facebook. Entry deadline for the contest is June 15, 2013. Ten finalist will be randomly chosen from all entries to tell us why they are the most deserving to win this once in a lifetime trip.  The winner will be announced by June 28th.  You must be 19 years or older to enter.