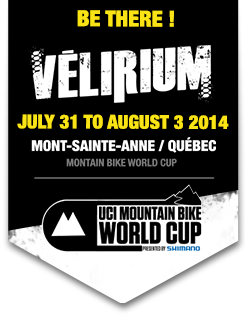 April 18, 2014 (Mont-Sainte-Anne, QC) – A must on the UCI (Union cycliste internationale) calendar since 1991, the World Cup in Mont-Sainte-Anne is back from July 31 to August 3, 2014, bolstered by the addition of a Cross-country eliminator race. New to the Vélirium program, Cross-country eliminator consist of 4 riders racing over a course of about 1km.
Marie-Hélène Prémont returns to training
A little less than a year after giving birth to her baby girl, cyclist Marie-Hélène Prémont promises a gradual return to training and hopes to be able to participate in the UCI cross-country World Cup on Sunday, August 3 at Mont-Sainte-Anne. "I'll start with the Canadian Cups at Tremblant and Baie Saint-Paul in May and if all goes well, I hope to be back on the World Cup circuit at Vélirium, confirms the athlete from Château-Richer. First and foremost, I want to see how I feel getting back into competition form, and I will make my decision from there!" The participation of the Quebecois favorite for Vélirium 2014 will therefore be confirmed in the coming months.
Sneak peek
Following the success of last year's condensed edition, the International Mountain Bike Festival is back in 2014 with a 3-days formula. 5 months ahead of the event, the organizing committee unveils the program highlights:
Place D'Youville – Québec
– Thursday, July 31 2014 – City8, presented by Monster Energy
  (Urban event of dirt and freestyle)
Mont-Sainte-Anne
– Friday, August 1 – UCI Cross-country eliminator World Cup  (XCE)
– Saturday, August 2 – UCI Downhill World Cup  (DHI) and Vélo Mag Raid
– Sunday, August 3 – UCI Cross-country World Cup (XCO) and Véli-Kidz race
*Schedule subject to change
In addition to the competitions, Vélirium will once again feature the Family Zone, the Exhibitors' Village, bringing together the biggest names of mountain bike industry and many memorable parties held in the Tremblay Lounge at the foot of the mountain! The Pumptrack Epic as well as the Critérium iBike will also return, following the new
fixed-gear bike trend. Complete schedule to been published soon HERE.