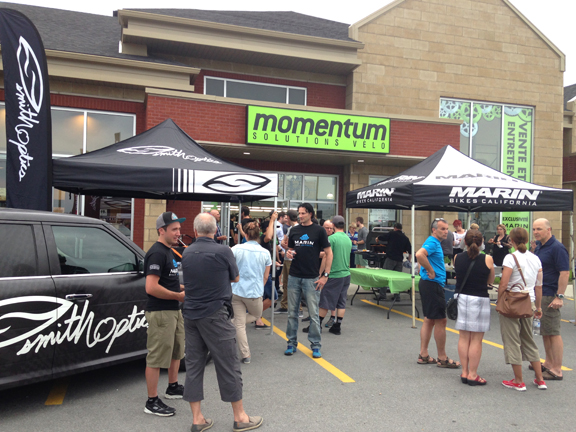 July 03, 2014 (Terrebonne, QC) – Momentum Solutions Vélo, a Marin partner store in Quebec, officially opened its second location in Terrebonne, a bedroom city north of Montreal. A grand opening celebration party was organized on the evening of June 17 at the new store featuring door prizes, children's activities and hors d'oeuvres.
"About 200 people turned out for the opening," commented store manager Yannick Guimond. "There were people both inside and outside the store. Following the success of our Montreal store on St. Denis Street (which opened in 2010), it was only logical to open a second location. Terrebonne has a strong cycling culture there is an immense network of bike paths for both road and mountain biking. It's a magnificent spot."
On hand for the festivities was Marin CEO Matt VanEnkevort, up from the company's headquarters in Marin County, California often credited as the birthplace of mountain biking. For the uninitiated, Marin County is just north of the Golden Gate Bridge, the renowned landmark that links the county with San Francisco.
During Momentum's 2010 store opening in Montreal, Marin's first partner store worldwide, the company's founder and former owner and CEO, Bob Buckley was present, underlying the importance that the company pays to its Canadian retail base.
"Instructive and really busy," is how VanEnkevort described the store opening during Pedal's interview with him the following day. He's excited about the close partnership Marin has with Momentum Solutions Vélo, explaining that it's not a Marin concept store. VanEnkevort prefers to use the word partnership as it's a not an exclusive relationship. He also termed Momentum's experience as "a phenomenal success" attributing this in part to a healthy camaraderie among Marin dealers in Quebec – full interview is below.
"We are staying loyal to Marin and most of the bikes for sale in our store are from that company," continued Guimond. "But we also sell some BMC and Garneau product. In terms of accessories, we have many brands such as Smith Optics, Giro, Garneau, Gore, Oakley and Thule." The store also offers repairs, fitting, rentals, storage, shipping boxes, and club rides.
Momentum Solutions Vélo in Terrebonne is open seven days a week. Online reviews of the store on Facebook paint a very positive picture with most reviewers giving a full five-out-of-five; the overall score is 4.8-out-of- five.
Interview w/Matt VanEnkevort