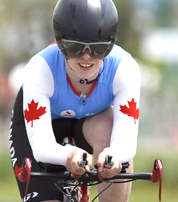 May 12, 2014 (Castiglione Della Pescaia, Italy) – Jaye Milley of Calgary, AB and Marie-Claude Molnar of St-Hubert, QC both finished third of their respective road race at the Para-cycling Road World Cup in Castiglione Della Pescaia, Italy.
Jaye Milley was among a group of five riders in the final sprint for the first place, after 1:41 of intense racing. Milley, along with three German and a Spanish rider, broke away from the main group and managed to cross the line together. Ultimately after 65-km of racing, Milley crossed the finish line in third place, behind Pierre Senska and Michael Teuber, two German riders.
"Today's race was absolutely phenomenal! There was some incredible racing and all the guys at the line pushed the limit to the max. It was grueling, fast and utterly leg destroying. To say the least everyone brought thereA-game and to be able to stand on the podium with the very best Para-Cyclists in the world for the second time this year is truly a blessing," said Milley. "While this event was a tremendous success there was also a lot that I personally learned and will be coming home with lots to work on in preparation for the rest of the year so that I can push the limits even farther to bring home a medal for Canada at the 2014 Road World Championships.
Marie-Claude Molnar, who won a medal at the last Paralympic Games in London, was among the group of six riders in her race. Despite fighting sickness in April, hindering her training for this event, Molnar stayed composed and rode to the third place of the 65-km race, winning her second medal of the event after taking silver in the time trial on Friday.
"Considering the new groupings, the race was much more difficult and strategic. In my instance, the race went really well for me, despite a few mistakes of my part. As soon as I get back home, I will immediately go to work to gain the physical requirements needed to stay among the best. The competition is getting better and stronger, and I will have to race more frequently to gain experience in pelotons," said Molnar.
Canada ends this World Cup event in seventh place of the Nations Ranking, with eight medals – four gold, one silver and three bronze.
Results
WOMEN – C4
1. MORELLI, Shawn [USA] 1:47:29
2. AMICI, Alessandra [ITALY] +4:29
3. MOLNAR, Marie-Claude [CANADA] +9:18
MEN – C1
1. SENSKA, Pierre [GERMANY] 01:41:26
2. TEUBER, Michael [GERMANY] st
3. MILLEY, Jaye [CANADA] st
WOMEN – C5
1. HARKOWSKA, Anna [POLAND] 1:38:30
2. HEINRICH, Samantha [USA] +5:40
3. BRACHTENDORF, Kerstin [GERMANY] +10:37
DNF CLERMONT, Nicole [CANADA]
MEN – B
1. OOST, Rinne / VAN LEEUWEN, Cor [INDEPENDENT] 2:35:37
2. PIZZI, Ivano / PIZZI, Lucca [ITALY] +0:02
3. POLAK, Marcin / LADOSZ, Michal [POLAND] +0:07
12. CHALIFOUR, Daniel / CLOUTIER, Alexandre [CANADA] +0:50
15. CARRIER, Alexandre /LAFLAMME, Aroussen [CANADA] +4:30
MIXED TEAM RELAY
1. USA-1 [GROULX, William / LACHENAUER, William / DE LOS SANTOS, Alfredo] 37:39.9
2. ITA-1 [SETTE, Pautaleo / MAZZONE, Luca / ZANARDI, Alessandro] 38:03.2
3. BEL [DEBERG, Jean Francois / HINDRICQ, Christophe / VAN DE STEENE, Jonas] 38:46
6. CAN [LEDO, Mark / MOREAU, Charles / LABBE, Robert] 40:31.9
Follow Cycling Canada on Twitter at www.twitter.com/cyclingcanada and on Facebook at www.facebook.com/cyclingcanada.