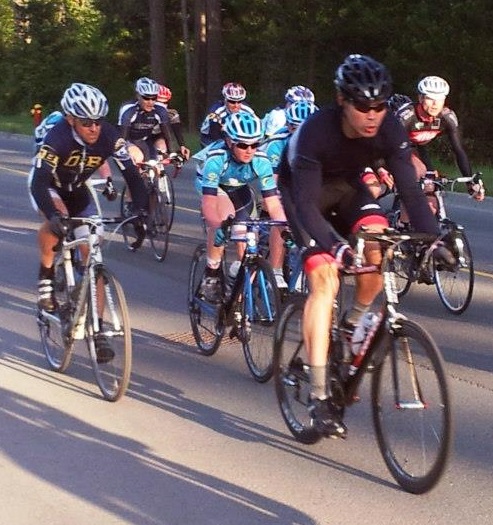 May 01, 2013 (Nanaimo, B.C.) – Here is the MIVA Tuesday Boxwood Criterium report from April 30. The 15-lap women's points criterium stayed together until the first prime, which was won by Charlene, coming up the outside of the group. Glenda edged out Mykelti for second while Jessica sat on the back. Then the 14-year-old Vipyrs rider made a strong effort and opened up a small gap which grew to 15 seconds by the second prime, which she won comfortably. Charlene had dropped back and Mykelti and Glenda worked together to try and bring Jessica back, with Mykelti taking second points in the prime. Jesica was now into time trial mode and continued to take time out of the rest of the riders, finiishing first, in 27′ 12″, 26 seconds ahead of Mykelti, who took second place, 3 seconds ahead of Glenda, with Charlene coming in a further 57 seconds down. Jessica is a fine example of what a structures road and track programme can do.
Women's Results
(points every 5 laps [5,3,2] with double points on last lap)
1. Jessica Reynolds (Vipyrs) 11 points, 12 series points
2. Mykelti Berg (MIVA) 9, 10
3. Glenda Harling (Cowichan) 7, 9
4. Charlene Hay (MIVA) 5, 8
Men's / Youth event
30-lap points criterium – points every 10 laps (5,3,2) with double points on last lap
The men's event had a total of 19 starters, 3 of them under 17. For the first ten laps, the pack stayed intact, with just 2 of the riders off the pace. The first prime was won by Ian Smith, with Menno Jongsma in second and Steven Struthers third. This trio had been driving the pack and deserved the points. However, in the next lap, Menno opened up a slight gap and was joined by hard man Ian. The pair stay away for the next six laps, at one point having a 12-second advantage but the bunch was now working hard and on Lap 17, the race came together. Then Ray Wagner took a flyer and grabbed an 8 second advantage, with youth riders Brodie Hay and Mark Grant staying with him. The break managed to stay away for the next 3 laps, taking all the second prime points before the pack pulled them back. With 10 laps to go, Ian and Menno again attempted to break clear but they were quickly absorbed. Then CVCC's Ray Wagner, with Brodie Hay in hot pursuit, broke from the pack and gained up to 20 seconds. They held on for a Further 4 laps but, with the finish only 4 laps away, the fast-moving bunch hauled them back and started setting up for the final sprint, with double points up for grabs. Menno led a group Of 6, including Simon Struthers, Ian Smith, Ray Wagner, and youth riders Mark Grant and Brodie Hay who was having a remarkable day. With one lap to go, the race came together but as they came down from the last, fast corner, Ian Smith Brodie and Chris Cameron had again gapped the field and sprinted for the line, with Cameron coming up the outside to edge Smith by half a wheel and Brodie taking a well-deserved third ahead of the remnants of the pack.
This was one of the fastest criteriums on the Boxwood circuit and shows that the general standard of riding is improving steadily.
Results
1. Ian Smith (MIVA) 11, 12
2. Chris Cameron (MIVA) 10, 10
3. Ray Wagner (CVCC) 5, 9
4. Brodie Hay (Vipyrs) 4, 8
5. Menno Jongsma (MIVA) 5, 7
6. Paul Thompson (MIVA) 5, 6
7. Steve Struthers (MIVA) 3, 6
8. Mark Wieler (MIVA) 3, 5
9. Simon Struthers (MIVA) 4
10. James Grant (Vipyrs) 3
11. Evan Earp-Jones (OBB Wheelers) 2
12. Kyle Waring (MIVA) 2
13. Kirby Villeneuve (MIVA) 2
14. Mark Grant (Vipyrs) 2
15. Mike Sevcov (Cowichan) 2
16. Mark Wiler (MIVA) 2
17. John Lam (MIVA) 2
18. Bill McMillan (MIVA) lapped 2
19. Michael Gill (MIVA) lapped 2
20. Quentin Wicks (MIVA) DNF 1
All riders who did not score points were placed according to their Finishing positions. I have video confirmation of this.
Thanks to volunteers, Larry Reynolds, Steve Grant, Andrea Hunter, Iain Hay, and Al Henderson. These good volunteers helped out at registration, looked after the belland lap board and did a sterling job controlling the vastly increased volume of traffic.
Judy Villeneuve took some good photos of the event. Click HERE.