August 28, 2013 (Milton, ON) – On Wednesday, August 28, 2013, delegates from the Paris to Ancaster annual cycling race presented a cheque for $21,500 to Milton Mayor Gord Krantz that will be directed towards the fundraising campaign for the Mattamy Cycling Centre (Milton Velodrome), An announcement was also made that partial proceeds from next year's race – to be held April 27, 2014 – will be directed to the campaign.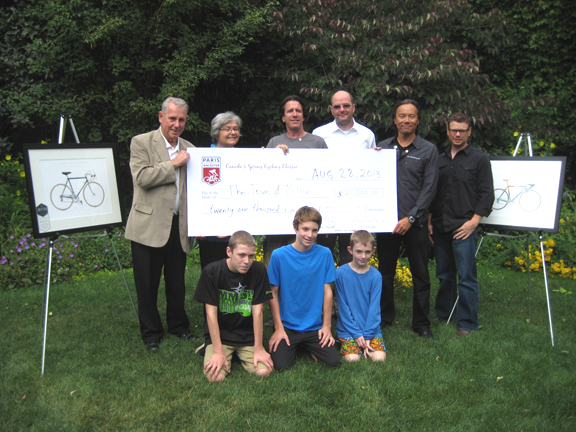 The Town of Milton has commenced its plan to engage the cycling community in support of the velodrome. One mechanism to do that has been to connect with the many cycling groups and enthusiasts that hold regular races and events. The Paris-to-Ancaster race was inspired by the classic European spring races and recently celebrated its 20th anniversary.
"On behalf of Milton Council, I would like to thank the organizers of the Paris-to-Ancaster event for choosing Milton's new legacy facility," said Mayor Krantz. "We are honoured to see that the Mattamy National Cycling Centre has quickly become a preferred fundraising cause for cycling-related fundraising efforts this year."
The Paris-to-Ancaster event has become a classic race experience for everyone from average riders to Canadian Olympians. Thousands of cyclists (including Olympians Steve Bauer, Tara Whitten and Chrissy Redden) showed up to face unpredictable spring weather on the roughest farm lanes, trails and gravel roads, alongside the largest field of riders assembled in Canada.
"We were really pleased about the success of the race and event, and are fortunate to have involved so many Olympic athletes," said event organizer John Thorpe. He and his race partner Tim Farrar donated partial proceeds from VIP registration fees and a live auction to the Make it Happen fundraising campaign, and collected additional donations online.
Unique fundraising events ranging in size and scope have been ongoing, and will continue throughout the campaign. Clubs like the Morning Glory Cycling Club and the Midweek Cycling Club (both based in Toronto) have held small-scale events and donated proceeds to the campaign. Cycling businesses like MCipollini Boutique in Toronto and Domestique Cafe Cyclo Sportif in Dundas have also been fundraising on behalf of the campaign. Local artist James McLean has donated original works of cycling art dedicated to the campaign.
"The Paris to Ancaster race and other events are all central to our fundraising activities, but also raise the profile of cycling in general", said Howard Chang, Chair of the Make it Happen Fundraising Committee, an avid cyclist and major donor to the campaign. "We are also really excited about the buzz Steve Bauer has generated by offering his Yellow Jersey Experience at upcoming Centurion Blue Mountain event."
Additional events and community-wide fundraising initiatives will be announced soon. The Make it Happen campaign team are gearing up to launch the public phase of the fundraising campaign, engaging the broader community, providing ways for all interested citizens to get involved in the campaign. For more information, visit here or call 905-878-7252, ext. 2213.