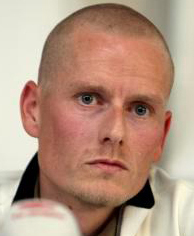 October 30, 2013 (Copenhagen, DK) – Danish rider Michael Rasmussen claims to have shown three Canadian MTB riders – including Ryder Hesjedal (Garmin-Sharp) – how to use the banned red blood cell booster EPO (erythropoietin) reports the Danish news site Politiken citing excerpts from Rasmussen's biography Gul Feber (Yellow Fever) to be released Monday.
The other two Canadians named are Seamus McGrath and Chris Sheppard. Rasmussen also implicates Bjarne Riis, Nicki Sorensen, Frank Hoj and Rolf Sorensen.
The book refers to a period when the three Canadians apparently stayed with Rasmussen at his house in the Italian Dolomites, in 2003, where he trained with them and claims to have taught them how to take EPO and other banned substances.
According to Politiken Rasmussen writes: "It soon became evident that the three Canadian mountain bikers Seamus McGrath, Chris Sheppard and Ryder Hesjedal, had seen the light: A good result in the [MTB] World Championships (2003) would send them to the Olympics in Athens in 2004."
"Chris Sheppard was sixteenth at the World Championships, Seamus McGrath was sixth or eight, before he went out, and Ryder Hesjedal finished second. Hesjedal would have won Olympic gold [the next year] if he hadn't punctured just before the finish. In 2012, after a number of good years on the road, he won the Giro d'Italia."
Rasmussen later qualified his remarks by saying that he never actually saw Hesjedal take EPO.
Hesjedal was leading at the 2003 MTB Worlds but settled for the silver as Filip Meirhaeghe from Belgium claimed the gold but tested positive the following year and later admitted to doping and was suspended. In September 2005 Chris Sheppard tested positive and also admitted to doping and received a two-year ban.
In 1997 Seamus McGrath missed his U23 race at the MTB World Championships as he, Meirhaege, Cyrille Bonnand and Jean-Christophe Savignoni, were suspended for two weeks for having haematocrit levels exceeding 50. That level was considered unsafe and also a sign of suspected performance-enhancing drug use.
Hesjedal, 32 of Victoria, BC, won the 2012 Giro d'Italia, becoming the first Canadian to win a Grand Tour. He rode with Rasmussen on Rabobank GS3 in 2002-3, becoming a full time road cyclist in 2005 when he joined the U.S. Postal Team with Lance Armstrong. Later he rode for Phonak with Floyd Landis in 2006, Health Net-Maxxis in 2007, and has been riding with Garmin-Sharp, owned by Slipstream Sports LLC which has a strict anti-doping policy, since 2008.
Rasmussen seemed destined to win the 2007 TdF when he was evicted from the Rabobank team for failing to disclose his whereabouts during training for the Tour. He has since confessed to doping and is now cooperating with anti-doping investigators.